Is an EMS career right for you?
An EMS career fits that category with high demand and an expected growth rate of 24% over the next ten years
---
If you're looking for a career change or are just setting out on your own, you might consider a career in EMS (emergency medical services). Why begin an EMS career? Here are some great reasons.
EMS job growth is triple the average
In these times of rampant unemployment, it's important to train for a career where there are plenty of jobs. An EMS career fits that category with high demand and an expected growth rate of 24% over the next ten years.
According to the Bureau of Labor Statistics, there are about 236,890 EMS workers currently working in the U.S. The growth rate is considered "much faster than average" for careers in the U.S., which means that the likelihood that you'll get a job after completing training is very good.
One reason that EMS career openings are increasing is the fact that our population is rapidly aging. Current data shows that roughly 30% of the population is over the age of 50 with that segment of the population continuing to age. Because older people need more medical care, they also require more EMS attention than people of a younger age.
Another reason that EMS careers are increasing is the overcrowding of the nation's emergency rooms. This means that EMTs and paramedics spend more time with their patients while they're waiting for an opening. Since they can't go to another emergency until their current patient is released to the hospital, more EMS personnel need to be hired.
Which states are best for new EMTs?
If you're considering an EMS career, you should also think about the rate of pay you'll receive as an EMT or paramedic. While you probably won't get rich as an EMS worker, you will have good job stability and a decent rate of pay. The average EMS salary nationwide is about $31,980 per year, but that number can be much higher depending on where you choose to live.
The states with the best average pay for EMS workers are the District of Colombia, Washington, Alaska, Connecticut, and Nevada, but five of the ten highest paying metropolitan areas in the country are located in Washington State. If you can land a paramedic job in the Tacoma-Lakewood area, you could make $77,770 a year.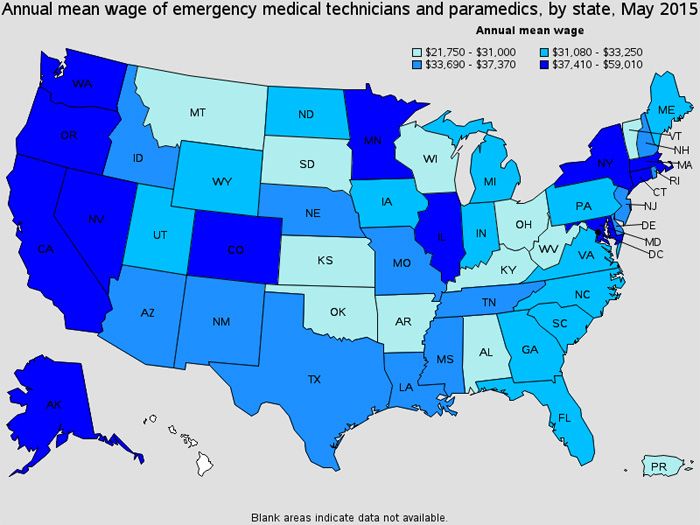 EMT and paramedic salary by state. (Photo/Bureau of Labor Statistics)
The greatest number of jobs for EMS workers can be found in Texas, California, New York, Pennsylvania and Illinois, but new jobs for EMTs, paramedics and other EMS personnel are posted every day.
The strongest reason for choosing an EMS career is being able to serveo your community. While the job can be extremely stressful at times, it also gives you a chance to help people who are often in life and death situations. Imagine the great feeling an EMT or paramedic has after saving a child from drowning, delivering a baby or rescuing a person who's been in a car accident. An EMS career can be extremely rewarding in this way.
While EMS careers aren't for everyone – you do need to be able to think clearly and function quickly in crisis situations – it's a rewarding career choice for many people.