Pa. EMS agency recognized for improved treatment of heart attack patients
The group, housed along Squaw Run Road in Fox Chapel, was given the Mission: Lifeline EMS Silver Plus Award for improving response measures
---
Tawnya Panizzi
The Tribune-Review
GREENSBURG, Pa. — Foxwall EMS has earned recognition from the American Heart Association for its work to improve treatment of heart attack patients.
The group, housed along Squaw Run Road in Fox Chapel, was given the Mission: Lifeline EMS Silver Plus Award for improving response measures, Commander Josh Worth said.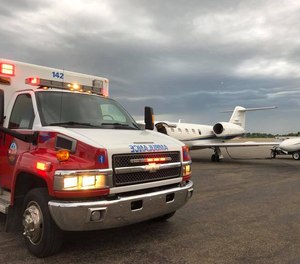 Mission: Lifeline's EMS awards recognize EMS teams for improving efforts to more quickly identify heart attack patients, notify the medical center and trigger an early response from the hospital personnel.
Foxwall's new cardiac monitors allow paramedics to recognize heart attacks and transmit the patient's heart rhythm to area hospitals before they arrive, Worth said.
More than 250,000 people a year experience one of the deadliest type of heart attacks, caused by blocked blood flow, that requires timely treatment, Worth said.
"To prevent death, it's critical to restore blood flow as quickly as possible, either by mechanically opening the blocked vessel or by providing clot-busting medication," he said.
Tim Henry, chair of the Mission: Lifeline subcommittee, applauded Foxwall's efforts.
"EMTs and paramedics play a vital part in the system of care for those who have heart attacks," he said "Since they often are the first medical point of contact, they can save precious minutes of treatment time by activating the emergency response system that alerts hospitals to an incoming heart attack patient."
Tawnya Panizzi is a Tribune-Review staff writer. You can contact Tawnya at 412-782-2121 x1512, [email protected] or via Twitter .
———
©2019 The Tribune-Review (Greensburg, Pa.)
McClatchy-Tribune News Service