Study: Cardiac arrests are not more common in the mornings
A recent study debunked the common belief that the morning hours are a "danger time zone" for sudden cardiac arrest
---
LOS ANGELES — A common belief that sudden cardiac arrest occurs mostly in the morning was debunked by a recent study.
According to the study, conducted at the Cedars-Sinai Medical Center and published in Heart Rhythm Journal, people are at no greater risk of dying from sudden cardiac arrest in the morning than they are at any other time of the day.
The study's author, Dr. Sumeet Chugh, the morning hours are not the only time blood vessels narrow and cause the heart to beat faster due to pressure or excitement.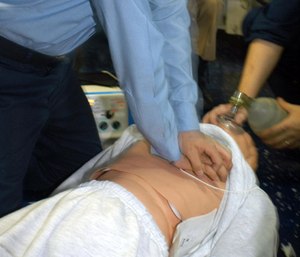 Chugh said a possible explanation for the finding could be due to  "the advent of the internet and smart phones, allowing for access to entertainment, social life, and even work activities 24 hours a day, 7 days a week."
"While there are likely several reasons to explain why more cardiac arrests happen outside of previously identified peak times, stress is likely a major factor," he said. "We now live in a fast-paced, 'always on' era that causes increased psycho-social stress and possibly, an increase in the likelihood of sudden cardiac arrest."
The research team looked at data from the Oregon Sudden Unexpected Death Study, which tracks the cause and time of sudden deaths that occur outside of the hospital, and analyzed 1,535 fatal cardiac arrest events.
Researchers found no early morning peak among the incidents and instead found that the death rate was lowest between midnight and 6 a.m., and steady the rest of the day.
"This is just another piece to the puzzle," Chugh said. "Our next steps are to conclusively determine the underlying reasons behind this shift, then identify public health implications as a result. Because sudden cardiac arrest is usually fatal, we have to prevent it before it strikes," he said.