Veteran firefighter says hockey team bus crash was most intense he's seen
Nipawin Fire Department Chief Brian Starkell recalled the fatal crash that killed 15 Humboldt Broncos players and staff, and said bystanders were a tremendous help
---
By EMS1 Staff
SASKATCHEWAN, Canada — A 40-year fire veteran recalled a fatal hockey team bus crash that killed 15 players and staff, and said it was the most intense crash scene he's ever experienced.
CBC reported that Nipawin Fire Department Chief Brian Starkell responded to the crash of the Humboldt Broncos hockey team bus that was on its way to a tournament, and said victims had been thrown onto the snow.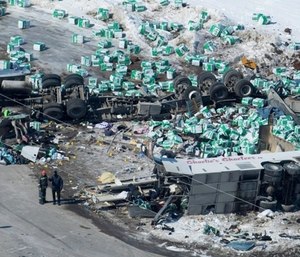 "We heard [the screaming] for a couple of moments, and we'd get the victim out, and get them to the right personnel, and we just went back for the next person," Starkell recalled.
Starkell said bystanders jumped into action and helped any way they could, supporting responders in a tremendous way.
"Anything we needed, they just ran and got it for us."
A memorial now stands were the crash occurred, with a cross made of hockey sticks, flowers and stuffed animals, but shards of metal and plastic, as well as vehicle parts and mechanical fluids, are still visible.
"It's too heartbreaking, too sad for these people to die so young," Hawks fan Phyllis Snyder said while paying her respects.
People from both Canada and the United States are sharing photos of hockey sticks left on porches as a tribute to players with the Humboldt Broncos hockey team and five others, including two coaches, who were killed in a bus crash in Canada https://t.co/2iil4Q2Ql7 pic.twitter.com/7nKOL0AVjh

— CNN (@CNN) April 10, 2018