Texas community rallies behind EMT battling brain cancer
EMT Damian Jay was diagnosed with brain cancer in October, and has said he's received an outpouring of support from other first responders
---
By Mitch Mitchell
Fort Worth Star-Telegram
ARLINGTON, Texas — It started with big mood swings, headaches and blurred vision earlier this fall.
Now Arlington EMT Damian Jay, 32, is fighting a brain tumor and preparing to go back to work, after making the rounds of doctors' offices and radiation treatment since the October diagnosis. He said Sunday in a telephone interview he's seen an outpouring of support from other first responders.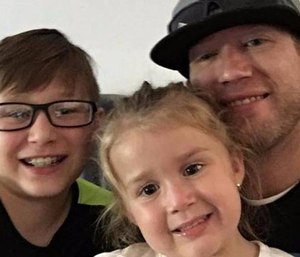 "I could not ask for a better group of friends," Jay said. "Everyone who wears blue is supporting us, even all the nurses at all the hospitals, the people in the fire department and the police around here, all throughout north Texas."
A special bond forms between first responders, said Lt. David Tyler, Arlington Fire Department spokesman.
"We laugh together. Sometimes we cry together," Tyler said. "Damian is a member of our family, and the Arlington Fire Department will rally around him with love and support. Our thoughts and prayers are with Damian and his family as he fights this battle. We are confident that he knows he will not be fighting alone."
His treatment seems to be working, according to Jay's sister, Danielle Jay. "The tumor has not seen growth which is great news," she said in a social media post.
Jay's sister has started a GoFundMe account, which is more than halfway to its $10,000 goal.
"With the cost of medicine and not being able to work due to the illness, his wife and 2 wonderful kids are trying to find ways to make things work while they go through this horrible time in their life." a post on Jay's GoFundMe account said.
Jay said he just wanted to give a big thank-you to everyone supporting his recovery.
"I could not ask for a better group of people," he said.
Copyright 2016 the Fort Worth Star-Telegram