Paramedic drowns, dies while on vacation
Mahmoud Ghannam, an Essex-Windsor EMS medic, was not wearing a lifejacket and drowned after his canoe capsized
---
TOWNSHIP OF CHATSWORTH, Ontario — Paramedic Mahmoud Ghannam, 49, died after his canoe capsized on a lake in Grey County, Ontario on Thursday.
Ghannam was not wearing a lifejacket when found and removed from the lake by the Chatsworth Fire Department, reported the Windsor Star.
He was pronounced dead at the scene.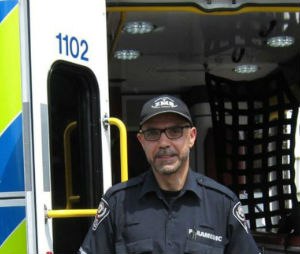 Friday morning, Essex-Windsor EMS tweeted "It is with heavy hearts, we announce the sudden passing of our Paramedic Mahmoud Ghannam. Our thoughts are with his family and friends."
Ghannam's colleagues remembered him during a Friday morning news conference. "He was caring and compassionate with every patient he cared for," EMS chief Bruce Krauter said. "This was an untimely and sad situation in which his EMS family is shaken."
"Mahmoud was an amazing person, Mahmoud cared about everybody, from his co-workers to his patients to his family," said Justin Lammers, an EMS deputy chief who was friends with Ghannam. "It's hard to comprehend. I think that's what everyone at Essex-Windsor EMS is struggling with today."
"He was one of the best paramedics we had, he's been around for 11 years, a veteran," said paramedic Ian Nash, president CUPE Local 2974.