Texas FD's supervisor vehicles now carry whole blood
"Within the first day, we had blood products administered to a patient within five hours," said Justin Reed, assistant chief of EMS for the Cy-Fair Fire Department
---
By Leila Merrill
HOUSTON — The Cy-Fair Fire Department has joined the growing number of organizations that are equipped to treat trauma patients with whole blood, the Houston Chronicle reported.
The department's supervisor vehicles started carrying the blood products last week as part of a partnership with the Gulf Coast Regional Blood Center.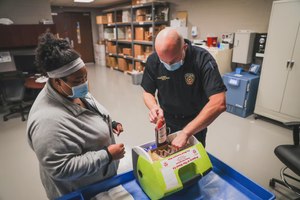 "Within the first day, we had blood products administered to a patient within five hours, which just in and of itself shows the need that we have in our community," Justin Reed, assistant chief of EMS for CFFD, told Click2Houston.
Cypress Creek EMS, which is also located in the Houston area, established a whole blood program in 2017, while Austin-Travis County EMS launched a pilot program last month.