2 Texas EMS agencies first in U.S. to deploy whole blood
Since deploying packed red blood cells and plasma for the first time, 133 units have been administered to 72 patients
---
HOUSTON — On August 24, 2017 at approximately 7:30 pm Cypress Creek EMS became one of only two ground EMS systems in the country to carry Whole Blood in the field 24/7/365. The other agency is our partner in the program, Harris County ESD 48 Fire Department/EMS which deployed whole blood on Friday August 18.
Exactly one year ago, CCEMS deployed packed red blood cells and plasma for the first time. Since then 133 units have been administered to 72 patients. About 56% percent were medical in nature such as gastrointestinal bleeding and 44% were trauma patients. Here's the breakdown on trauma.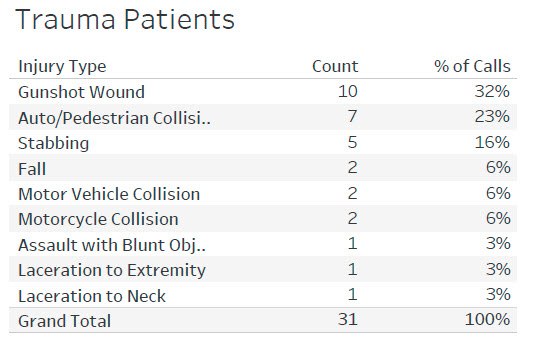 While we enjoyed great success with the blood products program, we knew that whole blood had additional clotting factors such as platelets and that recent battlefield experience indicated the possibility of even better results.
The first shipment of whole blood was delivered around 5 pm on August 24th and was checked in, tagged and documented by Supply Manager and Supervisor Vaughan Miller before being deployed into the field. Special Operations Director Wren Nealy reviewed the protocols with CCEMS Supervisors earlier in the day.
CCEMS and ESD 48 have been working toward the transition to whole blood for some time in partnership with the Gulf Coast Regional Blood Center in Houston. The blood center did not offer whole blood before and is now producing it solely for CCEMS and ESD 48. It is anticipated that other EMS systems in our region as well as Air Medical Helicopter Services and Hospitals will join in the switch from blood products to whole blood in the near future.
CCEMS and ESD 48 are using universal blood types O Positive and O Negative. O Positive will be administered to everyone except women of child bearing years and children. They will be given O Negative.
CCEMS and ESD 48 were the first to carry blood products in the field around the clock. It was carried and administered only by Supervisors and that remains the same for whole blood. In addition, the CCEMS Tactical EMS Team, which provides medical support to local, state and, federal law enforcement during high-risk operations, will carry whole blood during missions and training exercises.
The initial blood products program led to a lot of discussion in the EMS Community and a cover story in the March Issue of EMS World Magazine. Now, the switch to Whole Blood seems to be causing even more buzz. Since this is brand new uncharted territory, CCEMS and ESD 48 will be document our experiences for those who follow.
Especially instrumental to this program being established at CCEMS are Executive Director Brad England, Medical Director Dr. Levon Vartanian, Special Operations Director Wren Nealy and the elected commissioners of Emergency Services District # 11 who funded the special medical grade refrigerators and portable coolers for the supervisor vehicles. In addition, Col. John Holcomb of the University of Texas Health Science Center and the Texas Trauma Institute at Memorial Hermann lent his substantial support and expertise to making the blood program a reality. A big thank you goes out to ESD 48 EMS Chief Eric Bank who started the ball rolling by asking the question, "Why can't ground EMS systems carry blood?" Finally, none of this could be possible without the considerable assistance of our partners at the Gulf Coast Regional Blood Center.
This article is republished with permission from Clear Creek EMS
 

Request product info from top EMS Medical Equipment companies
Thank You!