Baby named after the paramedic who helped with delivery
The paramedic was "humbled and appreciative" that the couple decided to give the baby the middle name Chloe
---
NORTHAMPTON, England — A family named their baby after the paramedic who helped the mother give birth.
When Chrissy Lane experienced a worrying bleed at the 41st week of pregnancy, she and her husband called for an ambulance.
Paramedic Chloe Civil arrived to the home soon after and realized Lane was about to give birth, the Northampton Chronicle reported.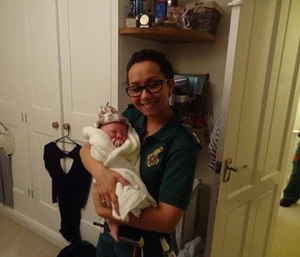 Civil assisted Lane through labor, and 10 minutes later the child was born.
The couple was so grateful that they decided to give the child, Holly, the middle name Chloe, "To have a constant reminder of the lady who welcomed her into the world," Lane said.
Lane and her husband, Tom, wrote to the East Midlands Ambulance Service to say thank you for the "excellent care" and to reveal their name choice.
"I felt so humbled and appreciative," Civil said. "I just wanted to tell everybody."