'The Cadillac was a nice ride': Calif. paramedic honored for 50-years of service
Ed Smith's interest in EMS began in 1972 after hearing Hall Ambulance Founder Harvey L. Hall give a presentation during a first aid class
---
By Steven Mayer
The Bakersfield Californian
BAKERSFIELD, Calif. — Bakersfield's Ed Smith has provided life-saving emergency care to countless patients during his 50 years at Hall Ambulance.
He has used his experience and skills to help trauma victims, heart attack patients and people of all ages suffering from any number of medical emergencies.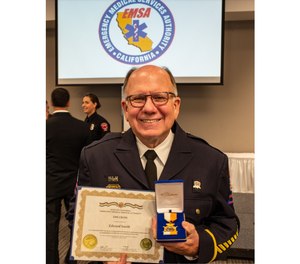 In October, the 70-year-old paramedic retired after deciding to take a long-deserved rest.
But on Tuesday he was brought back into the fold as he and more than 40 other emergency medical services workers from across California were honored for their heroic acts and extraordinary contributions at the State EMS Authority's California EMS Awards held at the Mayne Events Center in Bellflower.
"Seeing Ed Smith receive the California EMS Authority's EMS Cross award this afternoon seems the perfect way to crown his career spanning five decades," said Mark Corum, director of media services at Hall.
"His devotion and commitment, whether as Kern County's third paramedic or being an exemplary employee throughout his career, are noteworthy, and all of us at Hall Ambulance are very proud of him."
Smith, who retired last October after an incredible career at Hall Ambulance, was beaming after receiving the award, considered the highest award conferred in the absence of extreme conditions and extraordinary circumstances.
The medal recognizes a uniformed EMT who, by act and deed, represents the most outstanding achievement or accomplishment in EMS over an extended period, Hall Ambulance said in a news release.
Smith joined Hall Ambulance on May 5, 1972, after listening to Hall Ambulance Founder Harvey L. Hall give a presentation during a Bakersfield College advanced first aid class.
He still remembers the impression Hall made, and it was one reason Smith decided to give the job a closer look.
"I rode along (in ambulances), just observing for a little while," Smith said during a phone interview Tuesday from Bellflower.
He was able to get a first-hand look at what the work entailed and was able to determine whether it was something he could do.
After all, it was something he had never considered before.
"I hadn't even noticed ambulances on the street," Smith recalled. "I hadn't even thought about it."
But it turned out he was a natural.
He became an EMT in 1973 and soon thereafter distinguished himself by becoming Kern County's third paramedic in 1975.
"I was only 19 when I started," Smith said. "I grew up during my career."
He is one of the few remaining employees who had the opportunity to work alongside Hall on the old Cadillac ambulances in the company's early days.
"The Cadillac was a nice ride," Smith remembered. "But we had to get something with more room."
During his career, Smith also served as a paramedic field supervisor for Hall Ambulance's west Kern operations area. And for the past 20 years, he was responsible for coordinating, troubleshooting, and repairing the company's complex radio system, emergency vehicle monitoring safety equipment and other electronic devices.
It seems versatility is also one of Smith's strengths.
(c)2023 The Bakersfield Californian (Bakersfield, Calif.)
Visit The Bakersfield Californian (Bakersfield, Calif.) at www.bakersfield.com
Distributed by Tribune Content Agency, LLC.
McClatchy-Tribune News Service