2023-24 recipient of the Jack Stout EMS Fellowship for Leadership Development announced
Kayla Welwood is currently pursuing a master's degree in organizational leadership
---
By Bill Carey 
EMS1 
PLATTE CITY, Mo. — Kayla Welwood, manager of Low Acuity and Integrated Care with the Clinical Hub, at the British Columbia Emergency Health Services (BCEHS), has been named the 2023-24 recipient of the Jack Stout EMS Fellowship. 
Endowed by FirstWatch, the Fellowship was created in collaboration with the Fitch EMS Foundation and is named in honor of the late Jack Stout, widely regarded as the father of high-performance EMS systems.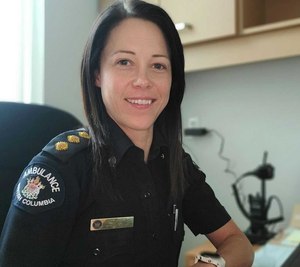 The fellowship provides a platform for chosen individuals to acquire knowledge of Stout's principles: people-centered leadership, data-driven decision-making, impactful quality improvement, and holistic system-wide thinking. 
Welwood was a paramedic for several years before moving into management. She is currently pursuing a master's degree in organizational leadership. 
"I have read about Jack Stout and his amazing career. It is a real honor and such an exciting opportunity to be named a Jack Stout Fellow,." Welwood said. "I'm looking forward to gaining experience and being exposed to new ways of thinking." 
"We had more than 40 highly qualified nominations," Todd Stout, the son of Jack Stout and founder of FirstWatch, said. "We're so happy for Kayla as my dad's legacy carries on." 
Jack Stout Fellows attend the Pinnacle EMS Leadership Forum and either the Fitch Ambulance Service Manager (ASM) program or the Communication Center Manager (CCM) program with all expenses covered by FirstWatch. 
The Fellowship is customized to each winner, with a curriculum designed to meet his or her specific interests and needs. 
Nominations for the 2024 – 2025 Fellowship will be open from March 1 through May 1, 2024. For more information and to apply, go to FitchEMSFoundation.org and select the Jack Stout EMS Fellowship.