Intoxicated man cuts saline bags, drinks from them in back of rig
David L. Gardener was arrested for battery of a police officer after he was removed from the back of an ambulance for drinking saline from bags
---
By EMS1 Staff
OUACHITA PARISH, La. — A man was arrested after allegedly opening bags of saline and drinking them after being loaded into the back of an ambulance.
KNOE reported that an Acadian Ambulance Service rig nearly hit 55-year-old David L. Gardener, who was in the middle of an intersection in the early morning hours on March 16.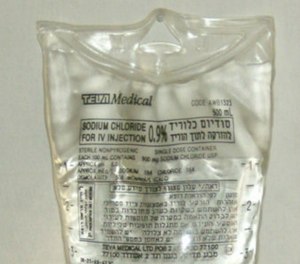 First responders loaded him into the back of the ambulance, but once inside, Gardener took a small knife and began slashing open bags of saline and drinking them.
Crew members called the Ouachita Parish Sheriff's Office, and when a deputy arrived, they had to physically remove Gardener from the ambulance.
As the deputy working to get handcuffs on him, Gardener took a swing at him, and later kicked him in the shins.
Gardener was charged with disturbing the peace/drunkenness, battery of an officer, resisting an officer, simple criminal damage to property and obstruction of a public passage.