U.S. senators call for probe of Mylan's EpiPen rebates
The senators requested that the Department of Justice investigate whether or not Mylan underpaid Medicaid rebates of EpiPens
---
By Patricia Sabatini
The Pittsburgh Post-Gazette
WASHINGTON — Three U.S. senators are asking the Justice Department to investigate Mylan over whether it shortchanged the government's Medicaid program by underpaying rebates for the EpiPen.
In a letter dated Wednesday, the senators noted that Mylan classified the EpiPen as a "non-innovator" drug, a category meant for older products available from multiple sellers and that calls for paying a rebate of 13 percent, instead of an "innovator" drug, which requires paying a rebate of 23.1 percent or more. Companies are responsible for classifying their own drugs.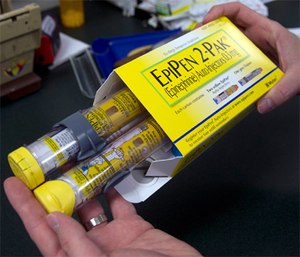 "The facts ... suggest that Mylan may have knowingly misclassified EpiPens, potentially a violation of the False Claims Act and other statutes," wrote the senators, including Chuck Grassley, R-Iowa; Richard Blumenthal, D-Conn.; and Amy Klobuchar, D-Minn.
A statement released Wednesday by the Centers for Medicare and Medicaid Services seemed to support that claim.
"CMS has, on multiple occasions, provided guidance to the industry and Mylan on the proper classification of drugs and has expressly advised Mylan that their classification of EpiPen for purposes of the Medicaid Drug Rebate program was incorrect," spokesman Aaron Albright said in an email.
"We are not in a position to comment on specific steps taken by CMS or our other federal partners to correct this misclassification," he said.
The Medicaid Drug Rebate Program requires drug companies to pay a percentage of their revenue to states in the form of rebates.
"Companies can reap huge profits at the expense of the states and taxpayers by misclassifying" products as non-innovators, the senators said in their letter.
Mylan, which reincorporated in the Netherlands but is run from corporate offices in Cecil, did not respond to emails seeking comment.
The company has triggered a public backlash and drawn intense scrutiny on Capitol Hill in recent weeks, including accusations of price-gouging, for raising the price of the potentially lifesaving allergy treatment some 500 percent in recent years.
This week's call for a Justice Department probe follows an investigation of Mylan launched last week by West Virginia's attorney general into the same Medicaid rebate issue.
The investigation also will look into whether Mylan violated antitrust laws by maintaining a monopoly for the emergency autoinjector through conduct that excluded competitors or by conspiring to limit competition.
The EpiPen rebate issue was first raised by U.S. lawmakers several weeks ago in a letter to Health and Human Services Secretary Sylvia Mathews Burwell.
At the time, Mylan issued a statement to certain media saying it had "complied with all laws and regulations" regarding the Medicaid rebate program and that the EpiPen had been classified as a non-innovator drug since before Mylan acquired rights to the product in 2007.
Copyright 2016 the Pittsburgh Post-Gazette