Ga. county settles with AMR after complaints of poor service
AMR has agreed to resolve $1.9 million in contract penalties after several complaints of slow response time were made
---
By EMS1 Staff
DEKALB COUNTY, Ga. — A county is settling with AMR amidst a long history of poor service complaints.
The Atlanta Journal-Constitution reported that DeKalb officials voted to allow AMR to resolve $1.9 million in contract penalties after many complaints of slow response times were made.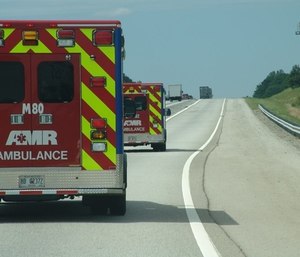 Only $600,000 of the funds will be paid in cash, and AMR will be given $1.3 million in credit to boost staff and add ambulances to two fire stations.
AMR Regional Director Terence Ramotar said the slow response times were due to traffic, hospital delays and the wide paramedic shortage.
"We are extremely proud of the critical work the men and women of AMR do in partnership with DeKalb Fire Rescue, day in and day out. In a tough job such as this, good work and good outcomes often go unnoticed," he said.
DeKalb County Fire Rescue currently dispatches its own responders to medical calls. Their response time average is 7.5 minutes, while AMR's average was almost 13 minutes in April.