Ga. county may extend AMR contract despite series of issues
AMR has been DeKalb County's emergency transport provider since 2013, and there have been concerns about the company's performance for years
---
By Tia Mitchell
Atlanta Journal Constitution
DEKALB COUNTY, Ga. — DeKalb County could keep its maligned ambulance service provider around for another six months and allow it to charge users higher fees.
County officials ultimately plan to rebid the emergency transport services contract, but that process is in the early stages and won't be completed until July at the earliest. However, DeKalb's agreement with with American Medical Response expires on Dec. 31. To fill in the gap, CEO Michael Thurmond's staff has proposed an 11th-hour contract extension.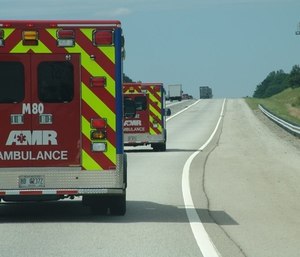 "What we've really been focused on is a timeline for (requests for proposal) and having a clear definition of what we want now and the level of service we expect moving forward," said Zach Williams, Thurmond's chief operating officer. "We're positioning to do both."
The DeKalb County commission is required to approve an extension. Its final meeting of the year is Dec. 11.
Commissioners received preliminary information on Tuesday, but the most important details — like a new fee schedule for AMR — are still being ironed out. The company have told the county that the fees it collects don't cover costs.
Presiding officer Jeff Rader voiced frustration about the last-minute nature of the deal commissioners are being asked to approve.
"To have it come in on the last week at the end of the legislative cycle of this year, it is problematic for the board to do its due diligence," he said.
AMR has been DeKalb's emergency transport provider since 2013, and there have been concerns about the company's performance for years. The biggest criticism is lagging response times, especially in the county's northern reaches.
The city of Dunwoody in May declared an "EMS crisis" after video surfaced of an AMR emergency medical technician punching a handcuffed, 17-year-old patient. Dunwoody officials considered pulling out of the agreement with AMR and collaborating with nearby cities on another provider. But, ultimately, they decided not to. The staffer in the punching incident no longer works for the company.
AMR agreed to boost staffing and add ambulances to fire stations in Dunwoody and Stonecrest to address the response time concerns.
Last month, Dunwoody Mayor Denis Shortal signed a memorandum of understanding that guaranteed nine-minute response times in his city.
Shortal said Tuesday that things have been going well and he doesn't object to a contract extension as long as the company continues to fulfill its promises.
"So far, it seems to be working really good," he said. "An agreement is only as good as the people that signed it and the people backing it to make it work."
In August, AMR agreed to pay DeKalb $600,000 to resolve lingering fines for failing to uphold provisions of the contract.
The county has hired a consultant to study emergency transport services and come up with recommendations that could help with the selection of a vendor in 2019. Williams said he hopes a decision will be made by July.
Rader said there may be some pressure on DeKalb commissioners to approve the extension next week because the county doesn't have a Plan B.
"It is one of these sort of darned-if-you-do, darned-if-you-don't situations," Rader said. "Because if we choose not to extend it, we will not have an ambulance provider. And we can't immediately start up an ambulance transport service in the county."
Copyright 2018 Atlanta Journal Constitution
McClatchy-Tribune News Service