Colo. AMR branch reports using naloxone nearly 350 times in 2017
State Sen. Leroy Garcia, D-Pueblo, who works as a paramedic for AMR of Pueblo, said the amount of times naloxone was needed last year is concerning
---
By Ryan Severance
The Pueblo Chieftain
PUEBLO, Colo. — A life-saving antidote used to reverse the effects of an opioid overdose was used by American Medical Response of Pueblo more than 300 times last year, and when accounting for other local agencies that carry the drug, it was administered more than 500 times.
Narcan was used on patients by AMR of Pueblo 348 times in 2017 — or about once a day — according to Mike Lening, AMR of Pueblo's operations manager.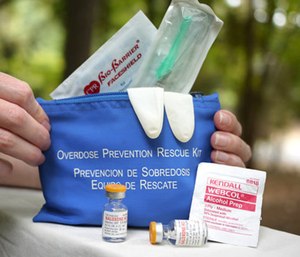 The Pueblo Fire Department used Narcan 177 times, according to Rick Potter, deputy fire chief.
Pueblo Police Department officers administered Narcan eight times, and deputies from the Pueblo County Sheriff's Office used it twice, according to officials from both of those agencies.
Officers with the Pueblo Police Department began carrying Narcan for the first time in June 2016 and sheriff's office deputies began carrying it for the first time in September 2016.
Some individuals are given multiple doses of Narcan as is necessary to help revive them, but statistics on how many of those instances occurred are not available.
It's important to note that not every administering of Narcan ended up being the
result of a major opioid overdose. First responders can use it to be better safe than sorry if they even suspect someone is experiencing an overdose that instead turns out to be a cardiac arrest or some other medical emergency.
Narcan can be administered several times if need be, or given to someone who might be suspected of overdosing on an opioid but is later determined not to have been, as it does not have any negative side-effects.
Because the drug can be administered by several entities, it isn't known whether the total numbers include individuals who overdosed more than once during the year and received Narcan more than once.
State Sen. Leroy Garcia, D-Pueblo, who works as a nationally registered paramedic for AMR of Pueblo, said the amount of times Narcan needed to be used last year is concerning.
Garcia said he's working on legislation to bring back the Circle Program at the Colorado Mental Health Institute at Pueblo, a program known for treating individuals with both mental health problems and addiction, and in finding additional resources to address the issue at the state level.
"I also think you have to go back to the root," Garcia said. "Why are people attempting to overdose? What is the psychological factor?
What is the physiological factor? And how do we begin to address this?"