Texas EMS considers retrofitting ambulances to curb theft
The move to implement changes comes after an ambulance was hijacked while EMS providers were in the vehicle
---
By EMS1 Staff
AUSTIN, Texas — Following a slew of ambulance thefts, officials are weighing several options to prevent future incidents. 
An Austin-Travis County EMS ambulance was hijacked with the crew inside Dec. 25, and earlier in the month another ambulance was stolen, reported KXAN. The thefts were the agency's first since the early 1990s.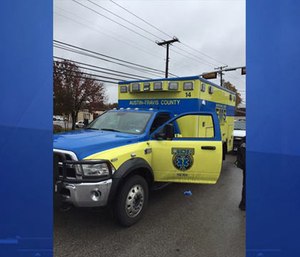 ATCEMS said there is now a separation between the patient and cab area of the ambulance, although they function under the same lock. 
"You can't jump in the back and lock the front," ATCEMS Capt. Rick Rutledge said. "This means the ambulance is either completely locked or unlocked."
Officials also said they are looking into new technology that would make it harder to put an ambulance into drive. 
"We're looking at something that makes the truck secure and inoperable for our crews until they decide to actually utilize the ambulance," ATCEMS Division Chief Wesley Hopkins said.
Retrofitting the ambulances will cost just under $500; the agency said it has found some suitable options that may be installed in the near future. 
"Obviously, the December events are something that puts this on the forefront of our mind," Chief Hopkins said. "As we progress through the years to come, we know that this may be a potential problem for us, so we want to find a long-term solution to help our crews work in a more safe environment."