Retired ambulance donated to high school EMT program
The AMR ambulance will serve as a simulation lab for the Academy of Health Services at Lanier High School
---
JACKSON, Miss. — A retired ambulance has found new life as a learning tool for high school students.
The Clarion Ledger reported that AMR donated a retired ambulance to Lanier High School's Academy of Health Services, which gives students the opportunity to become certified EMTs when they graduate.
The students will now be able to receive hands-on training through the ambulance, which will be known as the Emergency Medical Services Laboratory.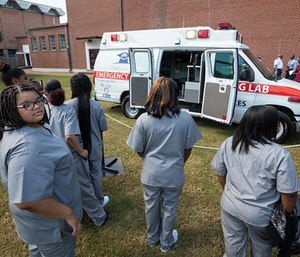 "This is a special day for AMR," Stan Alford, AMR's operations manager, said. "Over the years, we've donated several retired ambulances to fire, rescue and law enforcement agencies for a variety of uses, but this is the first time we've donated an ambulance to a school district. There are a great many career opportunities in the medical transportation field, and we hope students in programs such as Lanier's will go on to enter our profession."
Jackson Mayor Chokwe Lumumba attended the passing of the keys ceremony held at the high school to commemorate the donation.
"This represents more than just the passing of the keys," Lumumba said. "This is the passing of opportunity and of breaking down the walls of the classroom."
Superintendent Dr. Errick Greene said he hopes the donation will "spark a little excitement."
"I'm excited to see us doing something a little different," he said. "This warms my heart. This could change the trajectory of these young people's lives."