Mass. EMS agency receives free Humvee emergency transport vehicle
Nahant EMS acquired a Humvee emergency transport vehicle for free through a Defense Logistics Agency program to prepare for extreme weather conditions
---
By Bridget Turcotte
Daily Item, Lynn, Mass.
NAHANT, Mass. — Nahant's Emergency Management team is taking the wheel and defending the town against extreme weather and flooding.
Nahant acquired a Humvee emergency transport vehicle for free through a Defense Logistics Agency program that provides emergency response and first responders with surplus military vehicles.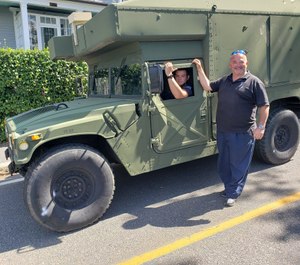 "Ever since March of 2018, when we had two significantly sized areas of the town underwater for four days, we've been looking closer at our emergency management department and the assets we have here in town that we can use during those types of natural disaster events," said Town Administrator Antonio Barletta.
A monstrous Nor'easter churned off the coast of New England with hurricane-force winds and rain during dangerous high tide cycles in March 2018, leaving parts of the town underwater for several days. The Department of Public Works was unable to pump water out of several roads and the ball fields on Ward Road before it was hit with recurring high tides. This left many streets impassable.
The National Guard was in town with military transportation vehicles in case of a necessary evacuation while the causeway was impassable.
The town declared a state of emergency two months prior during a fierce winter storm that left its only ambulance stranded on the wrong side of the causeway.
"The frequencies and severities of the storms have opened our eyes that we need to rethink things," said Mike Halley, director of Nahant's Emergency Management Agency.
To prepare for extreme weather, the town's Emergency Management team has been ensuring portable pumps and other equipment work properly.
First responders will now also use the Humvee to respond to emergencies during floods and other severe weather conditions, rather than ruining police cruisers and other town vehicles.
"This is designed to traverse rough conditions like a seawater flood," said Barletta. "We can now send the Humvee through a flood-like condition to recover someone or to get them supplies."
The Nahant Causeway, a 1.5-mile road that connects Nahant to the mainland, often floods during storms. It is the only road that leads in or out of town.
Though the town receives mutual aid from the state and other municipalities, there is no guarantee that they will be able to cross the causeway during an emergency.
"Those assets might not be able to be deployed into Nahant," said Barletta. If we had a serious emergency where we needed to get somebody off the island to the mainland where there's an ambulance waiting — and the causeway and rotary are flooded — we can transport them in this vehicle. It is helpful to have something like this on the island that we own, that we control, and that we can use in an emergency."
———
©2019 Daily Item, Lynn, Mass.
McClatchy-Tribune News Service