Ind. ambulance involved in rollover crash
Witnesses said the ambulance rear-ended a vehicle waiting to turn
---
By EMS1 Staff
SELLERSBURG, Ind. — An ambulance crashed into another vehicle Sunday, leaving two with minor injuries. 
Witnesses told WDRB that the ambulance hit a vehicle waiting to turn from behind. The ambulance then rolled over several times.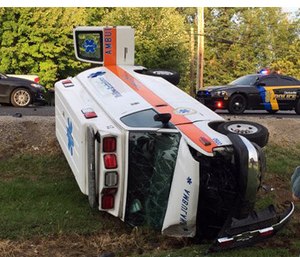 "It's just a piercing sound when you hear two cars collide. So, we took off running, and it was the ambulance that was on its side and then a Yukon that had flipped over twice and was in our yard," Carla Ramser, who lives along the highway where the crash occurred, said. "Just the noise itself, it gets your adrenaline going."
Ramser said a man in the ambulance got out and starting taking care of the driver who was in the Yukon, WHAS11 reported.
"The girl was in worse shape than he was," she said.
The driver of the ambulance was treated on scene for minor injuries. The driver of the Yukon was extricated by firefighters.