NY county medical center builds new trauma, emergency hub to match patient growth
The expansion includes a spacious, covered ambulance bay that can accommodate as many as 15 ambulances
---
Matt Glynn
The Buffalo News, N.Y.
BUFFALO, NY — Erie County Medical Center's trauma and emergency department is on track for a long-awaited upgrade.
ECMC's trauma and emergency department, which dates to 1978, was built to serve 45,000 patients a year. But the department treats over 70,000 patients a year, including more than 7,400 transferred last year from other hospitals.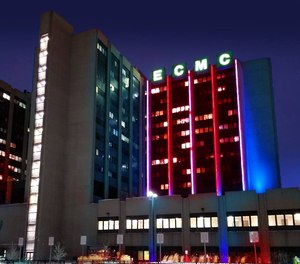 An all-new facility is under construction on the hospital's Grider Street campus. The new department, set to open in April 2020, will double the size of the existing facility and offer a layout better suited for physician and staff workflow. It will be known as the KeyBank Trauma and Emergency Department, following a $2.5 million donation by the bank, in partnership with the First Niagara Foundation.
As the only Level I Adult Trauma and Emergency Department in the eight-county region, the hospital's services are in great demand.
"We're not competitive with other emergency rooms," said Jonathan A. Dandes, chair of ECMC Corp.'s board. "All of the really difficult cases will come here basically from other hospitals. That's why the size is so important, and the ability to take care of all these people, because in many cases, other than Mercy Flight or someone coming directly here, if you go to another hospital, they will very often say, 'This is not something we can do here, go to ECMC.' "
The new emergency and trauma department will offer a number of advantages over the hospital's current setup, said Thomas J. Quatroche Jr., ECMC Corp.'s president and CEO.
There will be three distinct areas in the department to serve different levels of patients: one to "fast track" patients with less-acute care needs, another for typical emergency room patients and a third area for more-acute care needs.
The radiology department will be adjacent to the trauma rooms, bringing that technology closer than it is now.
"The CT scanners will be right next to those trauma rooms, so you literally wheel through a door and go right into radiology," Quatroche said. "That's going to save time, which will obviously save lives."
The trauma rooms will be double their current size, to accommodate the technology and staff needed to treat trauma patients, Quatroche said.
Another improvement will be accessibility. Currently, ambulances have to drive up a ramp to reach the emergency department. The new facility will be at ground level, with a spacious, covered ambulance bay that can accommodate as many as 15 ambulances. In a worst-case scenario – an incident involving mass casualties – more ambulances will be able to reach the facility's doors more quickly.
Quatroche said ECMC has expanded and improved its emergency department where possible over the years, but it needed a new facility to match the growth in patients treated and the department's needs. The new facility will be able to accommodate an additional 10,000 to 15,000 annual patient visits beyond the 70,000 the department currently handles, he said.
Quatroche also noted that the 70,000 patients a year figure includes 13,000 behavioral health patients, who need to get medically cleared before being sent to a psychiatric emergency room.
"We're actually about the same size as Bellevue [in New York City] when it comes to psychiatric visits and the number of beds," he said.
The $55 million project is fueled partly by a $15 million capital campaign – the first campaign of its kind for ECMC – that so far has raised about $14 million.
Dandes said the region's business community "has stepped up tremendously. No one has said no." The capital campaign has also received donations from physicians and physician groups, among others. ECMC's environmental services staff pooled their money and donated $1,000.
"The enthusiasm about what we're trying to do here is pervasive," said Dandes, who is chair of the capital campaign.
In making its donation, Key saw a chance to help ECMC improve its emergency and trauma department, while building on past partnerships with the hospital, said Gary Quenneville, Key's regional executive and Buffalo market president. The project ties into other investments Key has made on the East Side, including a new branch opening nearby and contributions to organizations like Gerard Place.
Putting Key's name on ECMC's new facility "symbolizes our commitment to the East Side," said Elizabeth Gurney, director of corporate philanthropy for Key and director of the First Niagara Foundation.
Aside from the $15 million expected from the capital campaign, ECMC will cover the rest of the project's cost with a combination of cash and borrowing. ECMC has requested $10 million from the state to support the project. If that funding comes through, ECMC would reduce the amount of cash it will devote to the project.
Quatroche said the new emergency and trauma department "will match the work of our clinicians and the excellence of our physicians and our clinical staff.
"For the institution, it's all about patient care, and that's what the important improvement is going to be, a better patient experience and better patient care."
———
©2019 The Buffalo News (Buffalo, N.Y.)
McClatchy-Tribune News Service