Colorado Springs keeps AMR contract despite failure to meet response time
"It's not that AMR is the greatest thing on the face of the Earth, trust me," Mayor John Suthers said. "Our choices aren't very good"
---
Conrad Swanson
The Gazette
COLORADO SPRINGS — Colorado Springs will keep its controversial ambulance services provider another year after abruptly canceling negotiations with another ambulance company last week, officials said Tuesday.
The contract with American Medical Response should be extended for about one year by the end of this week, Fire Chief Ted Collas said.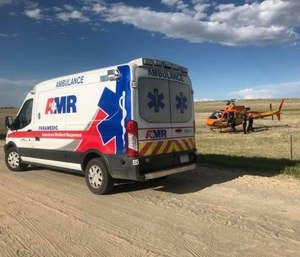 AMR failed to meet the required eight-minute response time on thousands of calls last year, so city officials began negotiating in March with Knoxville-Tenn.-based Priority Ambulance. AMR is required to meet that response time in 92 percent of instances, except in certain circumstances.
But extending AMR's contract and requesting more bids over the next 18 months will allow the city to search for the best possible service, Mayor John Suthers said. Previously, only AMR, Priority and Apex Paramedics of Arvada submitted bids.
"It's not that AMR is the greatest thing on the face of the Earth, trust me," Suthers said. "Our choices aren't very good."
The next bidding process will seek more private companies, he said.
It also will look to speed ambulance response times and redefine the urban, suburban and rural zones into which the services are split.
Collas said AMR met its 92 percent requirement with the Fire Department's help. The contract credits AMR when firefighters arrive on time. But the department still needs to explore any avenue that might improve response times, he said.
"(AMR) has been a good partner over the years," Collas said.
Scott Lenn, AMR's regional director, said he is willing to extend the company's contract for one year.
"While we believe an objective look at our records in Colorado Springs reveals a strong performance, there's always room for improvement," Lenn said through a company spokesman. "We hope to work closely with the city and the Colorado Springs Fire Department over the next year to identify ways our service could be even better."
Suthers recently said AMR's performance indicates the company would rather pay fines for late arrivals than keep more ambulances operating.
A new contract might increase fines for late responses, providing a stronger incentive for ambulance providers to properly staff their crews, he said.
Just as the potential switch wasn't meant to disparage AMR, Collas said, canceling the negotiations wasn't meant as a commentary on Priority.
"We weren't concerned with Priority, as far as their company goes," he said. "They were a good company to work with."
Priority and AMR are invited to submit new bids once the request is sent out, Collas said.
AMR's current contract expires at the end of 2018. The new agreement will extend its service through early January 2020.
———
©2018 The Gazette (Colorado Springs, Colo.)
Visit The Gazette (Colorado Springs, Colo.) at www.gazette.com