Acadian Ambulance celebrates 50 years, honors responders
"You spent your 50th anniversary doing what you do best — saving lives," said Gov. John Bel Edwards during livestreamed event that was delayed
---
By Leila Merrill
LAFAYETTE, La. — Acadian Ambulance honored Thomas Sumrall of Hub City as Paramedic of the Year and Jonathan Cody Sides of Memphis as EMT of the Year during its 50th anniversary celebration Thursday. The event was shown on multiple platforms including Facebook Live.
The keynote speaker, Gov. John Bel Edwards, pointed out in his speech that the event was originally planned for Sept. 1, the actual anniversary date, but at that time Hurricane Ida had just made landfall in Louisiana.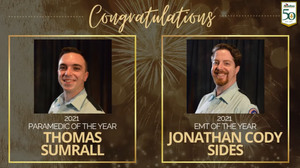 "You spent your 50th anniversary doing what you do best — saving lives," he said.
The event also included Acadian's regional honorees. A full list of their names is here.
Founded in 1971, Acadian Ambulance is the largest employee-owned ambulance service in the U.S. Acadian provides transportation and medical service to parts of Louisiana, Texas, Mississippi and Tennessee.