Orlando FD ambulance gets stuck in 6-foot hole
The ambulance had to be lifted and towed after its tire became stuck in what was initially suspected to be a sinkhole
---
By Laura French
ORLANDO, Fla. — An Orlando Fire Department ambulance was towed Thursday morning after becoming stuck in a hole in the road while responding to a call.
The hole was initially suspected to be a sinkhole, but city officials said it was actually a stormwater or wastewater line that caved in due to sand infiltration, according to ClickOrlando.com.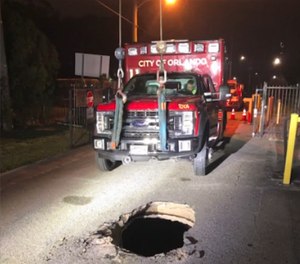 Fire officials estimated the hole to be approximately 6 feet in diameter and between 8 and 9 feet deep.
The rig's tire was caught in the hole, and it had to be lifted out and towed away. There were no injuries but the ambulance will be out of service until further notice, officials said.
McClatchy-Tribune News Service