Flying metal bolt smashes window of FDNY ambulance
Police are investigating whether the bolt was intentionally thrown at the rig
---
John Annese
New York Daily News
NEW YORK — A large metal bolt smashed the window of a moving Fire Department EMS ambulance in Brooklyn, and police are looking into whether the object was intentionally thrown.
The EMS crew was driving south on Marcus Garvey Blvd. near Quincy St. in Bedford- Stuyvesant just before 6 p.m. Friday, when the object punched a hole into the ambulance's front passenger side window.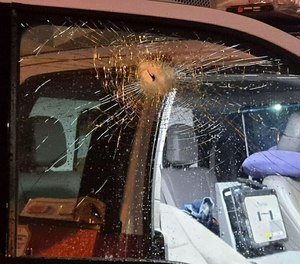 Oren Barzilay, the president of FDNY EMS Local 2507, said someone apparently threw the bolt.
The two-person EMS crew was evaluated at a nearby hospital, but neither were seriously hurt, Barzilay said.
"This shows once again how dangerous our EMS work is," said Barzilay, whose union represents New York City's EMT's, paramedics and fire inspectors.
"This is an escalation of how there's no regard to EMS first responders in our city as it continues to spiral out of control."
An NYPD spokeswoman said police were investigating the incident.
___
(c)2021 New York Daily News
McClatchy-Tribune News Service