Ore. ambulance catches fire during patient transport
The West Valley Fire District ambulance crew was transporting a patient from a vehicle crash when the fire started
---
By Laura French
POLK COUNTY, Ore. — An ambulance caught fire during a patient transport in Oregon on Tuesday.
West Valley Fire District personnel responded to a vehicle crash and were transporting a patient from the crash scene to the hospital when a mechanical issue occurred with the rig, fire district officials said in a statement.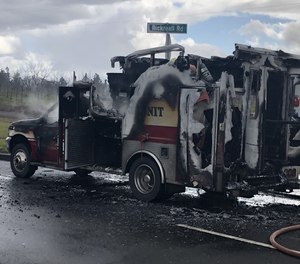 The ambulance crew immediately pulled over and acted quickly to remove the patient from the rig to a safe area, officials said. The crew called for an ambulance intercept from the nearest available ambulance and began to remove equipment from the burning rig to prevent it from being damaged. 
"The quick action of the ambulance crew kept the patient safe and saved most equipment that was removable," fire officials said in a statement. 
Dallas, Ore., Fire and EMS responded to continue transport of the patient to the hospital. Firefighters from the Southwest Polk County Fire District extinguished the flames and no one was injured in the blaze, according to KPTV. Officials said the ambulance is a total loss.