We didn't need another tragic reminder of the danger of EMS
Remembering and honoring two AMR paramedics killed in an ambulance collision for their devotion to family, dedication to community and compassion for others
---
Paramedics Lahiri Garcia, 51, and Paul Besaw, 36, died in a crash after a car pulled in front of the ambulance Thursday morning.
As I read the news report and the hundreds of comments remembering these caregivers and lifesavers, I couldn't help but think of something my mom said to me hundreds of times as a high school and college student. "It's not you I worry about, but the crazy people all around us."
I have read accounts on social networks that distraction or intoxication might be the cause of the car driver pulling in front of the ambulance. But speculating about the cause of the collision doesn't help me understand the driver's actions or somehow excuse the lethal outcome. Even when the crash investigation is complete, knowing the cause won't do anything to relieve the sadness I feel or the grief being experienced by the families, friends and colleagues of Garcia and Besaw.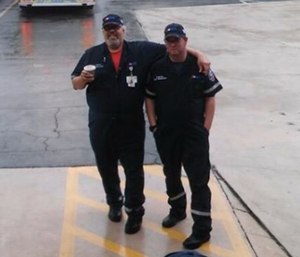 Our work in EMS and public safety is perilous. We didn't need this tragic death to remind us just how dangerous our workplace – the driver and patient care compartment of the ambulance – is and the risks that constantly exist. But let's all be reminded of the importance of controlling what we can when driving or riding in an ambulance – speed, attentiveness, anticipating and responding to other drivers, seat belt use and seat selection or riding position. For the stuff we can't control – the unpredictable action of the 'crazy people' – constant vigilance is needed.
Devotion, dedication, compassion
AMR wrote, in an official statement posted to Facebook, "Lahiri and Paul were both devoted husbands and fathers. They dedicated their lives to caring for others. They were skilled, compassionate and fearless employees who embodied all of the qualities of an exemplary EMS provider."
Reading those words and what Garcia and Besaw meant to the many who commented gave me reason for additional pause and reflection. Life can change in the blink of an eye for any of us. We get to choose through our words, actions and interactions how we are remembered. Devotion, dedication and compassion – to be remembered like Garcia and Besaw – are attributes every one of us should strive for in our work and in our relationships.
It's obvious that Garcia and Besaw cast a wide net in life. Through their work as caregivers, their character as supervisors and partners, and their personality, they have changed and improved many lives. The expressions of love and admiration for these men from the people who know them best are appreciated by me and the many other EMS providers who only learned of them after their sudden death.
Finally, to the families and friends, I am sorry for your loss. As you honor and remember Garcia and Besaw, recognize the impact grieving might be having on you and take care of your physical, emotional and spiritual needs.