Police: NY drunk driver hit ambulance, injured police medic
The police medic suffered a dislocated left ulna, fractured left hand and neck and back pain
---
By Laura French
BALDWIN, N.Y. — A New York man was arrested Sunday after allegedly driving drunk and crashing into an ambulance while driving the wrong way. 
The Nassau County Police Department ambulance was responding to a call and had its lights activated when it was struck on its driver's side by a Hummer, according to the police department. Police said the driver of the Hummer was heading east in the westbound lanes and had driven across a center median just prior to the crash.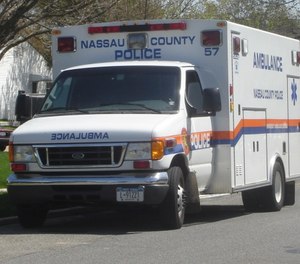 The police medic who was driving the ambulance suffered a dislocated left ulna, fractured left hand and neck and back pain as a result of the crash, and was transported to the hospital for treatment. Police said no one else was in the ambulance when the collision occurred. 
The suspect reportedly fled the scene after the crash but was later found parked behind an Applebee's. Police reported the man had bloodshot eyes, was slurring his speech and smelled strongly of alcohol. The suspect was also transported to the hospital for an ailment unrelated to the crash.
The suspect, Joaquin Cabrera, 57, is charged with driving while intoxicated, third-degree assault, second-degree reckless endangerment, leaving the scene of an accident and reckless driving.