La. coroner identifies victim of deadly ambulance crash
Baton Rouge police found that the EMS provider who had been driving the ambulance immediately rendered aid and took Kiyana Baskin, 20, to a hospital
---
James Finn
The Advocate
BATON ROUGE, La. — It took weeks to identify a woman struck fatally by an ambulance while crossing Plank Road.
The East Baton Rouge Parish Coroner's Office on Tuesday finally identified the woman, who authorities said was crossing Plank Road near Mohican Street after dark on May 19 when an East Baton Rouge EMS ambulance hit her. A digitized sketch of the woman's face circulated on Monday resulted in her family visiting the coroner's office and identifying her as 20-year-old Kiyana Baskin, the office said.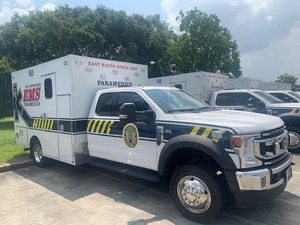 "With the help of local media and the public, we were able to identify Kiyana so that she can be laid to rest by her family," said East Baton Rouge Coroner Beau Clark. "Our thoughts and prayers are with them during this difficult time."
As soon as Baskin was struck around 8:30 p.m. that day, according to Baton Rouge Police, she was "assessed, treated and transported to the trauma center," said Mike Chustz, an EMS spokesman.
Baskin later died while at the hospital.
BRPD investigated the death and found that the EMS provider who had been driving the ambulance "immediately" stopped to care for the woman, then took her to the hospital, agency spokesman Sgt. L'Jean McKneely said.
___
(c)2022 The Advocate, Baton Rouge, La.
McClatchy-Tribune News Service