2 medics in stable condition after ambulance rollover
The medic who was driving the ambulance lost control of the vehicle, causing it to flip several times
---
PLEASANTON, Texas — A paramedic and an EMT were critically injured after one of them lost control of the vehicle and the ambulance rolled over Thursday.
The medics were returning to South Texas Emergency Care Foundation in Harlingen after transporting a patient to San Antonio Thursday, when the driver lost control of the ambulance, causing it to flip several times, CBS 4 News reported.
The two medics were airlifted to a hospital in critical condition and are now reported in stable condition.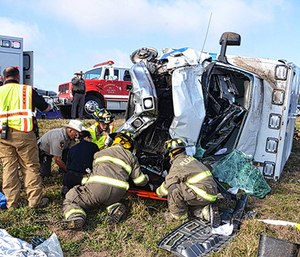 The incident is under investigation.
On Monday friends of the injured EMS providers launched a GoFundMe fundraiser.