UW Health to open $3M Med Flight facility this summer
The addition of a third aircraft means that Med Flight will soon employ 12 pilots instead of eight
---
Noah Vernau
WiscNews
PORTAGE, Wis. — University of Wisconsin Health Services says the Med Flight facility under construction at Divine Savior Healthcare in Portage should be operational by the end of July.
Construction started in mid-March on a 5,000-square-foot hangar and 2,500-square-foot auxiliary building that will house a Med Flight crew, their offices and supplies. The project has been completely funded by UW Health at a cost of $3 million to $3.5 million.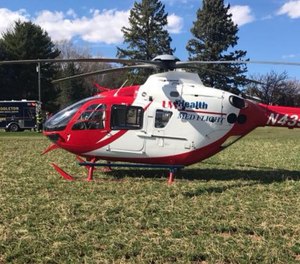 Much of the exterior work already was finished when crews managed by Findorff Construction out of Madison started working this week on interior projects including plumbing, electrical and in-floor heating, Divine Savior Director of Facilities Jeff Thompson said Thursday. The project is on track for completion July 3, at which point the site will be turned over to UW Health.
Portage becomes the third Med Flight location for UW Health. The others are in Madison and Mineral Point.
"The biggest thing for people to understand is this isn't us just plopping down in the middle of Portage, unannounced," said Dr. Ryan Wubben, head of UW Health pre-hospital medicine and a flight physician. "We're very much mindful of integrating this in a responsible and seamless fashion with the emergency staff at Divine Savior Healthcare, and we have done a lot of work to make it seamless."
The addition of a third aircraft means that Med Flight will soon employ 12 pilots instead of eight, Wubben said, and will also increase, by roughly 33 percent, the current number of flight physicians (20) and nurses (15) it employs. Med Flight missions involve crews of three — a pilot, a flight physician and a nurse — and the new Portage facility will be staffed accordingly 24 hours a day, seven days a week.
"If you take a 180-degree sweep, with Portage in the middle, and look out to the horizon from Reedsburg to Beaver Dam and points north, that's a really busy area for us, and this puts us that much closer to where things are happening," Wubben said of the new location and improved response times.
"It puts us about 20 or so minutes closer to that whole swath of area."
Divine Savior President and CEO Michael Decker said the addition bolsters an already strong local emergency response. The hospital in Portage houses six emergency vehicles — five ground ambulances and one intercept vehicle — that in 2018 responded to 2,913 emergency calls.
"It really just gives everybody that extra reassurance," Decker said. "When seconds count, we have our ground ambulance services, which we're very proud of, and then having Med Flight here just raises everything up."
Thompson and the hospital's marketing and community relations director, Haley Gilman, pointed out how the Med Flight project follows two other major additions to the Portage campus — the Tivoli nursing home in 2010 and the Wellness Center in 2016.
"This is part of the vision," Gilman said, "to have all of these services, everything, located right here in the community."
———
©2019 WiscNews
Distributed by Tribune Content Agency, LLC.
McClatchy-Tribune News Service