Public safety aviation group announces winner of flight nurse memorial scholarship
The Stacie Morse Gift of Flight Scholarship is named in honor of a flight nurse who was killed in a medical plane crash in January 2019
---
By Laura French
SITKA, Alaska — Every Coast Helicopter Operations (ECHO) has announced the winner of the 2020 Stacie Morse Gift of Flight Scholarship, which was established in honor of a flight nurse who died in a plane crash in 2019. 
Flight Nurse Stacie Morse, Flight Paramedic Margaret Langston and Pilot Patrick Coyle died in a medical plane crash while responding to a call in Alaska on Jan. 29, 2019. The Gift of Flight Scholarship was created in memory of Morse to assist female nurses in rural areas who want to pursue a career in flight nursing, according to ECHO.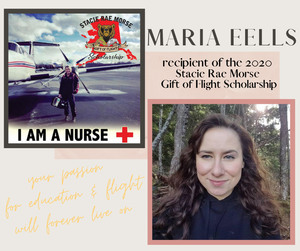 Nurse Maria Eells, of Sitka, Alaska, was named as the winner of the 2020 award, and recently presented with the $2,500 scholarship by Morse's aunt, Susan Delucia.
"Stacie was a member of ECHO, had a passion for learning, felt a calling to care for her community, and had a unique ability to bring comfort, hope, and joy to all those around her," ECHO officials wrote in a statement. "The review panel, composed of the ECHO Flight Crew Assistance and Support Team and Stacie's family, saw these same attributes in Maria, and is honored to present her with this scholarship." 
Eells was inspired to pursue flight nursing after her husband experienced a fatal medical emergency requiring air medical transport. Eells said the compassion, professionalism and expertise of the flight crew who transported her husband made her want to pay those same values forward to her community. 
Eells completed her nursing education while working as the captain of her husband's commercial fishing vessel after his death, as well as raising her family as a single parent. Eells plans to receive further training in flight nursing with the help of the ECHO scholarship. 
ECHO provides free to low-cost education, training programs, crewmember and program support and networking opportunities to public safety aviation members around the world, according to its website. The organization will begin accepting applications for the 2021 Stacie Morse Gift of Flight Scholarship on Feb. 14, 2021.