Okla. loses 4 air bases for air ambulance service
Life Flight parent company Air Method attributed the site closures to the costs of maintaining readiness at airbases
---
Chesley Oxendine
Muskogee Phoenix, Okla.
Life Flight parent company Air Method has announced the closure of multiple air bases for the air ambulance service, including one located in Keefeton.
"...after a thorough review and analysis of its operations, it will no longer maintain four of its bases in Oklahoma: Tulsa Life Flight 1 in Keefeton, Tulsa Life Flight 3 in Tulsa/Riverside, MediFlight of Oklahoma 1 in Chickasha, MediFlight of Oklahoma 2 in Seminole," according to a news release from the company. "The dispatch center will not experience any interruption in service...In addition, Air Methods is working with all employees on opportunities for other positions within Air Methods or their next career steps."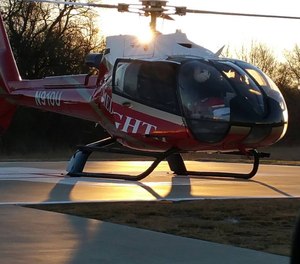 Life Flight will continue to offer their services in the area from the Life Flight 5 base in McAlester, the release states.
However, the impact on Muskogee County should be negligible, said Muskogee County Emergency Medical Service Community Relations Coordinator Trish German.
"It is not going to really affect us at all. There are other helicopter services available," German said. "So it's not really going to show any impact on Muskogee County EMS."
Muskogee County Emergency Management Director Jeff Smith said the county would simply turn to other air ambulance services to meet local need, such as Air Evac in Muskogee and First Flight in Tahlequah.
"There's multiple other air ambulances in the area that can be used for that. We're not going to do without, we're just going to do with one less," Smith said.
The company attributed the site closures to the costs of maintaining readiness at airbases.
"The cost of this around-the-clock readiness averages nearly $3 million per year for each air base, according to a cost study prepared for the Association of Air Medical Services (AAMS)," the release states. "Further, approximately 85 percent of costs are fixed costs associated with operating an air base, giving companies little leeway in reducing costs on their own."
Reimbursements have not kept pace with increasing costs, especially with patients who rely on Medicare, the release states.
"Medicare, which covers air medical services in emergency cases only, established the current air medical service payment rates in 2002 based on an estimated 1998 cost pool," the release states. "Today, the average Medicare per-transport reimbursement covers approximately half of the cost per transport, according to the AAMS study."
The sites, therefore, were closed in order to lower operating costs.
———
©2019 the Muskogee Phoenix (Muskogee, Okla.)
McClatchy-Tribune News Service