NTSB says fatal 2018 medical flight crash caused by 'loss of control'
The National Transportation Safety Board released its factual report on the crash that killed a pilot and two crewmembers
---
By Laura French
HAZELHURST, Wis. — The National Transportation Safety Board has released its factual report on a 2018 medical helicopter crash in Wisconsin that killed two crewmembers and a pilot.
The NTSB found no evidence that mechanical problems downed the Air Methods helicopter that crashed in Hazelhurst on April 26, 2018, and determined that the crash was caused by a "loss of control in flight," according to the report.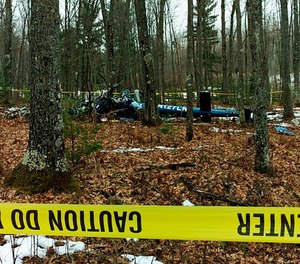 The crash killed Pilot Rico Caruso, Flight Paramedic Gregory Rosenthal and Flight Nurse Klint Mitchell, who were returning to base after delivering a patient for Ascension Wisconsin Spirit Medical Transport.
Image and audio from the helicopter's recording device recovered from the wreckage revealed that shortly before the crash, the crewmembers repeatedly shouted the pilot's name and received no response. 
The pilot's wife, who is also an Air Methods pilot, said she noticed nothing unusual about her husband on the day of the crash, and toxicology tests came back negative for all tested substances. 
The report concluded that the cause of the crash was "loss of control in flight."
Read the full report below: