Man thanks air medical crew for saving his life
Though he doesn't remember them, Jayden Olson, choking back tears, said that the AirMed crew that helped save his life is the best thing ever
---
Kayla Henson
Dickinson Press, N.D.
Dec. 2, 2018, Johnny Olson was driving his brother Jayden Olson and friend Adrian Hauck back from feeding horses when their old Dodge pickup hit a steep shoulder and flipped, throwing Jayden from the vehicle.
Jayden sustained a traumatic brain injury and lacerated spleen, for which he needed immediate care. He was transported via Sanford Health's AirMed service to Bismarck for surgery.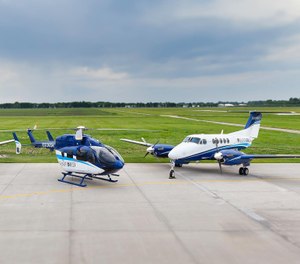 "They must have been there very quickly. We left at the same time. By the time I got to Bismarck, which is 90 miles, he was already in surgery," said Janine Olson, Jayden's mother.
She said the doctor had told Jayden if he hadn't gotten to Bismarck when he had, he would have died.
An emotional father, Mika Olson said that without the service, "He wouldn't be here."
Sanford's AirMed service transports patients nationwide, helping to provide care for those in rural areas. Dustin Kuhn is the lead flight paramedic for AirMed 5, which does on average one to two flights per day.
"We will go anywhere in the country. We can also go into Canada. This particular aircraft has been all over. We've been to Seattle, Houston, Baltimore, California. Our general coverage area is the tri-state ... but we can go anywhere," he said.
Their plane can transport patients when other means of transportation cannot.
Kuhn recalled one particular challenging case.
"The one case I'm thinking of in particular was some ground blizzard type conditions, so even ground ambulances were unable to go in some of these situations," he said.
The highways were shut down due to weather.
"There was a patient that we flew out of Minot," Kuhn said. "It was a gunshot victim that needed to go to Fargo. The conditions were right at our minimums, but the pilots did their checks and determined that we were safe to fly, so we went to Minot. The patient was in pretty bad shape. It was a gunshot wound to the head."
Without aircraft services, the patient would have had to wait at least overnight to make it to Fargo, losing precious time in a critical situation.
Occasions like that are the most rewarding part of their job.
"When we make a difference and save a life, that's the most rewarding," said flight nurse Marcy Dawson.
Patients like Jayden Olson are grateful for the service. He's back home, back to work and mostly importantly, still alive thanks to AirMed. Though he doesn't remember them, he said, choking back tears, that the AirMed crew that helped save his life is the best thing ever.
"There's times that people will come back and visit you and thank you, and that says a lot itself," said flight paramedic Ron Lockwood.
Olson would like to do just that — and he could get that chance.
This Sunday, Sanford will hold an EMS open house from noon to 3 p.m. which will include a kids' activities, bouncy house and ice cream.
"The plan is to have a static display of both our fixed-wing airplane and our rotor-wing helicopter out of Bismarck ... for people to come check out," Kuhn said.
———
©2019 the Dickinson Press (Dickinson, N.D.)
McClatchy-Tribune News Service