Doctor: Chronic pain patients switching from opioids to medical marijuana
Pain management specialist Dr. Michelle Weiner said medical marijuana is a "great alternative for a lot of people suffering with pain"
---
By EMS1 Staff
MIAMI — A large number of chronic pain patients are turning to medical marijuana to avoid addiction to opioids, according to a doctor who specializes in pain.
NBC Miami reported that patients such as Rosemary Maseri, who has multiple sclerosis, are using medical marijuana after experiencing addiction with their opioid prescriptions.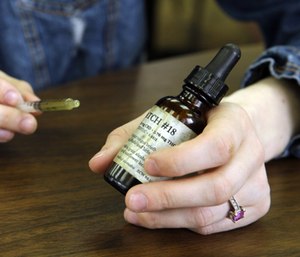 "I was waiting for those six hours to go by so I could have another opioid," Maseri said. "You start liking it and seven days later, you're addicted."
Maseri said her medical marijuana card has changed her life, and she uses a vaporizer filled with cannabis oil, a method that is approved by the Florida Department of Health.
"It's one of the things I've told my children, I cannot wait for the day for me to wake up and not have pain and my dream has come true," she said. "The opioids are gone, gone, gone."
Pain management specialist Dr. Michelle Weiner said the switch to medical marijuana is a growing trend.
"I think it's (medical marijuana) a great alternative for a lot of people who are suffering with pain or have a lot of neurological degenerative diseases," she said. "It really improves quality of life."
However, Weiner added that patients must fall under certain conditions to qualify.
"We have to justify to the Department of Health why this condition is similar to one of the ten qualifying conditions and then support our decision in the literature with research and evidence to show why patients have benefited from this condition."
Weiner, who currently has 800 patients on cannabis, said the alternative is safer because the fear of addiction is gone.
"The patient isn't going to abuse it to the point that they're dying or they're going through life-threatening withdrawal," she said. "A lot of physicians are concerned about prescribing opioids for a chronic condition."