Houston dispatcher sentenced for hanging up on thousands of callers
Harris County jurors on Wednesday found Crenshanda Williams guilty of interference with emergency telephone calls
---
By St. John Barned-Smith
Houston Chronicle
HOUSTON — A former Houston 911 operator who hung up on thousands of people including calls for help during robberies and homicides will spend 10 days in jail and 18 months on probation.
Harris County jurors on Wednesday found Crenshanda Williams, 44, guilty of interference with emergency telephone calls.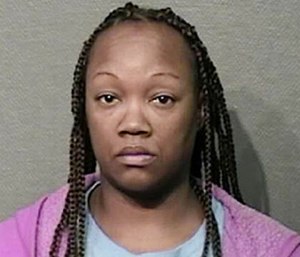 Williams spent a year and a half taking 911 calls at the Houston Emergency Center until she was caught in August 2016 and fired by the city. A supervisor who oversaw Williams was ultimately also placed on a year of internal probation, officials said at the time.
Williams' misdeeds came to light after HEC officials performing routine monthly audits of 911 calls noticed a high volume of Williams' calls lasted less than 20 seconds, known as "short calls." In a news release detailing the sentencing, prosecutors said that a review of call records showed Williams hung up on "thousands" of short calls.
The calls included one where a caller tried to report a violent robbery, and another where a caller dialed 911 concerned about two drivers racing in an area on Interstate 45 where people had been killed speeding just weeks earlier.
Harris County prosecutors said the county had an obligation to hold public servants criminally accountable when they break the law and the community's trust.
"The citizens of Harris County rely on 911 operators to dispatch help in their time of need," said Lauren Reeder, a Harris County prosecutor.
When Williams' actions were initially exposed, HEC Manager Joe Laud called them an anomaly.
"This is just a very significant event," Laud said at the time. "And we feel that her actions do not represent all the call takers in this facility or call takers in general. They have a very specific interest in doing a great job in providing emergency response to people."
The center - which opened in 2003 after the city consolidated 911 calls for the police, fire, and emergency management services - handles millions of calls annually, and about 9,000 a day. About one-third are true emergencies.
Franklin Bynum, Williams' attorney, said the case revealed "systemic" problems at the Houston Emergency Center, including a call-taking system that drops calls instead of rerouting them if dispatchers are not ready to take them. He also criticized the statute prosecutors used to charge Williams, and said he expected it to be overturned on appeal.
"She was going through a hard time in her life, and she was a poor performing worker at the Houston Emergency Center," he said. "But punishing her doesn't do anything to fix the problems that still exist at the emergency center."
Copyright 2018 Houston Chronicle