Conn. residents now able to text 911
Recent upgrades to the statewide 911 system now make it possible for people to text "911," allowing those who cannot speak a way to connect with responders
---
By Nicholas Rondinone
The Hartford Courant
HARTFORD, Conn. — Connecticut residents are now able to send a text message to 911 if they are unable to make the call in the case of an emergency.
Gov. Dannel P. Malloy announced the launch of the statewide text capability on Thursday.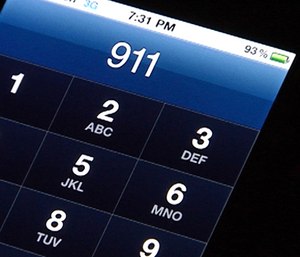 But this new feature should not be used if a person is able to call 911. This texting capability is meant to be used by people who are in a situation where it would be unsafe to call 911 or for those who are unable to make a voice call.
Residents will be able to send a text message to 911 from a handheld device in emergency situations. The system went live on Thursday.
Malloy said this system is another move to keep the safety and security of the state residents as a top priority.
"There are emergency situations where a voice call to 911 is neither possible nor safe," Malloy said in a prepared statement. "This technology provides increased protection for residents, including victims of domestic violence and those who are deaf or hard of hearing."
Officials caution that calling 911 will remain the best and quickest way to contact emergency services when it is feasible to make that call. Texting 911 should only be used when it's absolutely necessary.
"Call if you can, text if you can't," is the system's motto.
The texting option was specifically added so residents who are deaf, hard of hearing or have a speech disability are able to reach emergency personnel when needed.
The new text system is also intended to help residents who might be in a situation where they don't have the option to place a voice call to 911—such as a home invasion, a domestic violence incident or during an active mass shooting.
"The ability to use this very important tool in the most dangerous of situations gives a voice to victims ... We know for a fact that the ability to text 911 will save lives," said Mary-Jane Foster, president and CEO of Hartford's Interval House, the state's largest and oldest domestic violence agency.
Officials said residents who are unable to speak during a medical emergency should also utilize the new texting option.
"This will certainly help save lives and I'm glad this technology is currently available in Connecticut," Lt. Governor Nancy Wyman said.
And Department of Emergency Services and Public Protection Commissioner Dora Schriro said this texting system allows everyone to have critical access to 911 when needed.
Schriro said those looking for more information can visit www.Text911CT.org.
"This is a great step forward in the communication options for people who are deaf, hard of hearing, or have another disability that makes texting in an emergency their best or possibly only method to contact emergency services," said Amy Porter, commissioner of the Department of Rehabilitation Services, which is responsible for promoting equal access for people with disabilities.
To use the feature, enter the numbers 911 in the "to" or "recipient" field on a mobile phone or other handheld device. Text a brief message that includes the location of the emergency and whether police, fire or ambulance services are needed.
After sending the initial text, the sender will need to answer questions and follow the instructions from the 911 call center.
Copyright 2018 The Hartford Courant