Reframing 2020: How the positive takeaways will guide future EMS delivery
EMS leaders reflect on the lessons learned and how to continue EMS growth in the year ahead
---
When we ask readers to gauge their agency's level of preparedness, we ask about specific threats to safety and resources: e.g., cybercrime, MCIs, an active shooter, civil unrest. To say 2020 presented an unanticipated combination of trials and tests is an understatement. Yet, day after day, we saw the evidence of EMS providers, educators and leaders persevering, adapting and growing to meet these challenges head on.     
We reached out to our Editorial Advisory Board members, columnist and friends at national EMS organizations for their positive takeaways from this tumultuous year. Following is a few excerpts from what they had to say about the lessons we can take from 2020 and how to continue EMS growth in the year ahead.
For a PDF containing the full Roundtable responses, fill out the form below.
What have you taken from 2020 that will fuel your success in 2021? Comment below or email us at editor@ems1.com.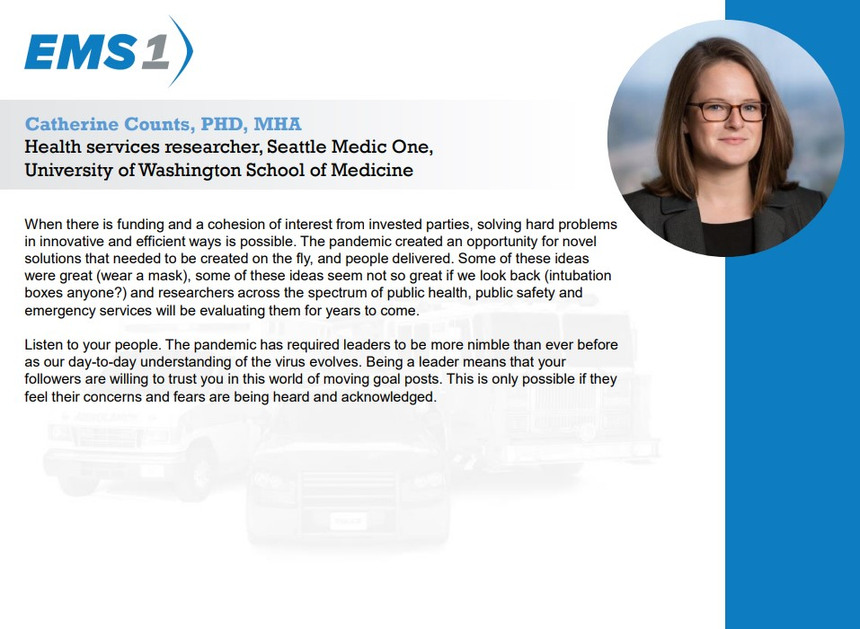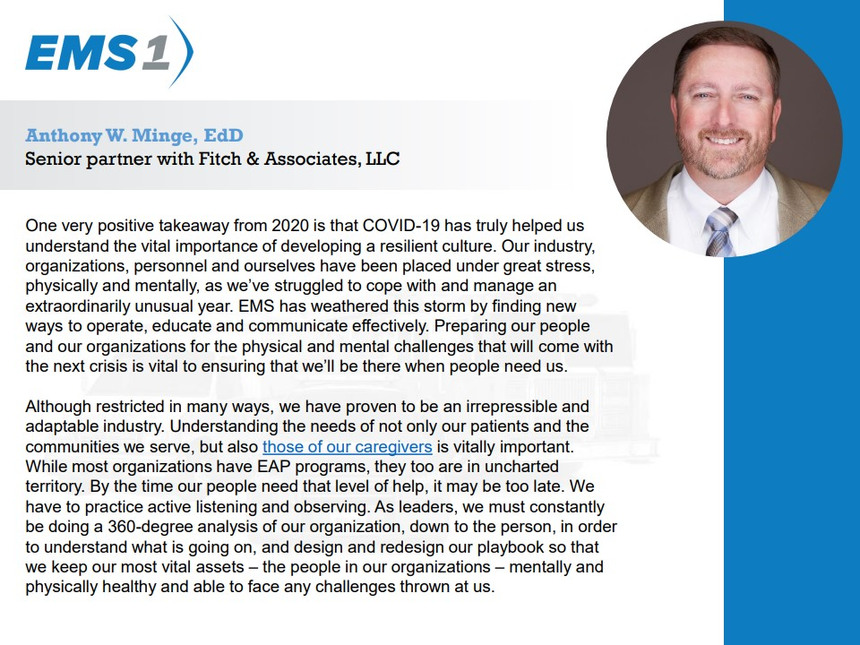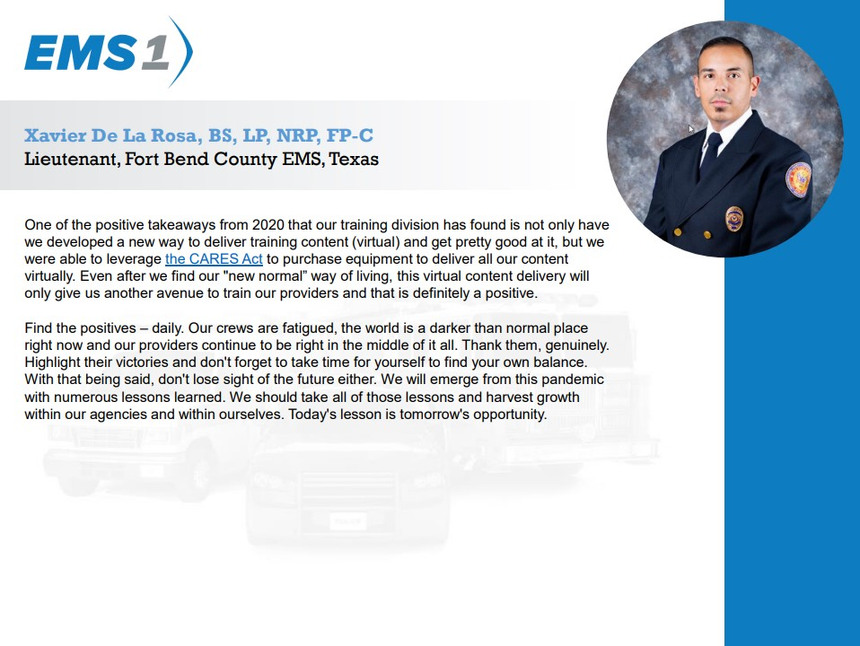 Hear more from our Roundtable participants:
Maria Beermann-Foat, PhD, MBA, NRP, battalion chief of operations for MED-ACT Emergency Medical Services
Tammie Bullard, paramedic, educator and author of "The Good, The Bad & The Ugly Paramedic," Greater Perth, Australia
Chris Cebollero, president/CEO for Cebollero & Associates
Catherine Counts, PHD, MHA, health services researcher, Seattle Medic One, University of Washington School of Medicine
Xavier De La Rosa, BS, LP, NRP, FP-C, lieutenant, Fort Bend County EMS, Texas
Rom Duckworth, BS, LP, fire captain and paramedic EMS coordinator, Ridgefield (Connecticut) Fire Department; founder, New England Center for Rescue and Emergency Medicine
Ann Marie Farina, BS, mental health advocate and educator, All-Hazards Wellness
Michael Fraley, BS, BA, NRP, paramedic; coordinator, regional trauma advisory council, Wisconsin
Greg Friese, MS, NRP, editorial director, Lexipol/EMS1
David Givot, Esq., criminal and EMS attorney, The Legal Guardian
Art Hsieh, MA, NRP, instructor, Public Safety Training Center, Santa Rosa Junior College, California
Ryan Kelley, NREMT, medical editor for American Addiction Centers
Rob Lawrence, principal, Robert Lawrence Consulting; Communications Committee chair, American Ambulance Association
Jonathan Lee, critical care paramedic, Ornge, Toronto
Bob Matoba, MEd, EMT-P, lead instructor, St. Anthony Paramedic Academy, Lakewood, Colorado
Anthony W. Minge, EdD, senior partner with Fitch & Associates, LLC
Kenny Navarro, chief of EMS education development, University of Texas Southwestern Medical School at Dallas; emergency cardiovascular care content consultant for the American Heart Association
Casey Patrick, MD, FAEMS, assistant medical director, Montgomery County Hospital District EMS, Greater Houston
Emily Pearce, BS, EMT-P, FAWM, DiMM, paramedic; medical student, Albuquerque, New Mexico
Ernesto M. Rodriguez, MA, LP, EMS chief, Austin-Travis County EMS
Mike Taigman, improvement guide, FirstWatch
David K. Tan, MD, EMT-T, FAEMS, associate professor and chief of EMS, Washington University School of Medicine, St. Louis; president, NAEMSP
Sarah Wilson, vice president of the Grant Division at Lexipol
Stephen R. Wirth, Esq., EMT-P, founding partner, Page, Wolfberg & Wirth LLC
Doug Wolfberg, founding partner, Page, Wolfberg & Wirth LLC
Matt Zavadsky, MS-HSA, EMT, chief strategic integration officer, MedStar Mobile Healthcare, Fort Worth, Texas; and president, NAEMT
For more insight from EMS's top leaders, fill out the form below. 
EMS LESSONS LEARNED IN 2020 AND WHAT TO EXPECT IN 2021