Search and Rescue squad unsure what to do with donated luxury cruiser
The donated boat would have to be outfitted for search and rescue purposes
---
By Taylor Cooper
The Brunswick News
GLYNN COUNTY, Ga. — Glynn County Finance Committee members recommended at a meeting Tuesday that the Glynn County Commission conditionally accept a donation of a 24-foot Bayliner boat for the Emergency Management Agency's Volunteer Search and Rescue Squad.
Public Services director John Powell said the boat was in good shape and wouldn't require much renovation and the EMA would outfit the boat with a side-scan sonar and other, smaller modifications to help with recovery efforts.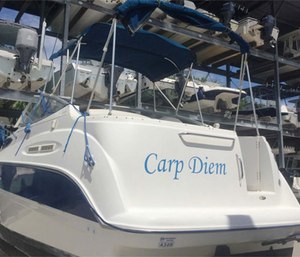 The committee members appreciated the donation, but weren't sure if they would be able to effectively use the boat.
"That's a big boat. That's a cruiser, a luxury boat. It's not a search and rescue boat," committee member Mark Stambaugh said.
Fellow members Dale Provenzano and Bob Coleman agreed with Stambaugh.
"This boat was designed for lakes and rivers, not offshore," Provenzano said.
Coleman said the boat would displace more than two feet of water, making it less than optimal for rescues close to shore and in shallow water. He also pointed out that the height of the boat would make it difficult to pull people out of the water without a ladder or rope.
"I would take it and flip it into something that's more usable," Provenzano said. "I can't see putting it in the fleet, personally. Could put it in marine patrol, where you're just driving around looking for things, but we don't do that."
The committee decided to recommend the county commission accept the donation but not put it into use, instead fixing any issues it may have and selling or trading it for a boat more suitable for search-and-rescue operations.
County attorney Aaron Mumford said the county would have to follow up with the donor to make sure that he would be willing to allow the boat to be used as such.
Copyright 2016 The Brunswick News