Amid storm, Texas FD reports fatality, responds to 90+ crashes, including its own
EMS agencies and fire departments in north and central Texas have been responding to hundreds of wrecks, including one involving an Austin ladder truck
---
By Leila Merrill
FireRescue1/EMS1
AUSTIN, Texas — Winter weather has caused at least one death and numerous vehicle crashes in north and central Texas.
The Austin Fire Department has responded to more than 90 crashes since midnight, CBS Austin reported.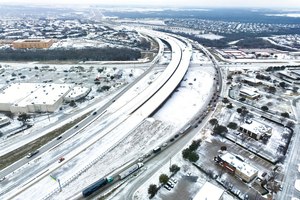 At one crash scene, the department's Ladder 18 was struck by a vehicle. There were no injuries reported.
The AFD reported one crash-related fatality, according to the Associated Press.
The storm has caused school closures for Tuesday and many flight cancellations and delays.
In Fort Worth, MedStar told the Star-Telegram early Tuesday that it had responded to 142 motor vehicle accidents, including 16 rollover crashes.
Jason Evans, a Dallas Fire-Rescue spokesman, told The Dallas Morning News that his department had responded to about 50 vehicle crashes as of Monday afternoon and expects to see more Tuesday and Wednesday.
Since midnight, we've responded to 90+ accidents, including 3 w/our own units! There were also 2 fires this a.m., both caused by space heaters. Please, STAY HOME AND OFF THE ROADS, give space heaters plenty of space, never use your oven to stay warm, and keep generators outside. pic.twitter.com/MTCZVH8xw7

— Austin Fire Info (@AustinFireInfo) January 31, 2023