Allergy experts publish guidance on COVID-19 vaccine
The American College of Allergy, Asthma and Immunology notes that vaccines should be administered in a healthcare setting where anaphylaxis can be quickly treated
---
By Laura French
ARLINGTON HEIGHTS, Ill. — The American College of Allergy, Asthma and Immunology (ACAAI) has published guidance on the risk of allergic reactions to the Pfizer-BioNTech and Moderna COVID-19 vaccines. 
The guidance, published Tuesday, notes that allergic reactions to vaccines are rare, with the risk of anaphylaxis estimated at 1.31 in 1 million doses given. For those who do have a severe allergic reaction to the first dose of the vaccine, the CDC advises that those patients not get the second shot, and that healthcare providers may refer them to allergy and immunology specialists for further care and advice.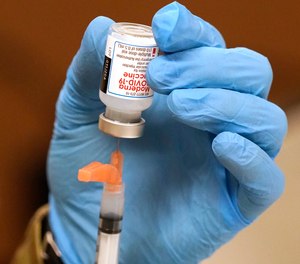 All mRNA COVID-19 vaccines should be administered in a healthcare setting where anaphylaxis can be treated immediately, with epinephrine as the first-line treatment, according to the ACAAI. All patients receiving the vaccine should also be observed for at least 15-30 minutes after injection to monitor for any adverse reactions. 
The vaccines should not be administered to those with a known history of severe allergic reaction to any component of the vaccine, and those with a history of allergic reactions to previous vaccinations should consult with their physician or another healthcare provider to discuss the benefits and risks of receiving the COVID-19 vaccine, the ACAAI states. 
The ACAAI adds that those with common allergies to medications, food, inhalants and latex are no more likely than the general public to have an allergic reaction to the mRNA COVID-19 vaccine, and that the vaccine can be administered to immunocompromised patients because it is not a live vaccine. The organization recommends that healthcare providers inform patients about the benefits of the vaccine versus its risks, and inform immunocompromised patients of the possibility of a diminished immune response to the vaccine.