More U.S. medics travel to help Ukrainians
Some U.S. medics have deployed with Team Rubicon, and one started his own nonprofit
---
By Leila Merrill
MEDWAY, Mass. — More American paramedics have been heading to Europe to help Ukrainians.
Alexander Smirnov, a paramedic from Medway, Mass., has taken a leave of absence from his job. He started a nonprofit, Global Disaster Relief Team, and recruited friends to join him in working at a pop-up medical station for refugees.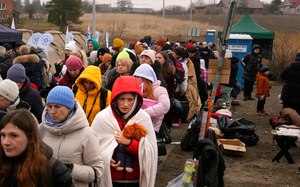 The team, which includes nurses, is in Poland, GBH reported. Their mission includes providing medical triage, first aid and working to gather and transport medical supplies.
"I'll be frank, it's hell here. It's a real hell on earth," Smirnov said. 
Another group, which includes about 20 paramedics and doctors, departed from Washington to help refugees, 7News reported Wednesday. They are with Team Rubicon.  
And Frank Minitello, a retired paramedic-firefighter who worked in Los Angeles, has joined the International Legion of Territorial Defense Forces of Ukraine and plans to be there for 90 days, the Daily Scanner reported.
"What I'm doing is simply to help others in their time in need.  I can say I'm tired of sitting on the couch and watching others suffer so I'm going to go there and help make a difference," he said.
Team Rubicon's Sr. Director of International Programs Zach Brooks-Miller joined @NBCNews to give an update on TR's response to the crisis in Ukraine and how our volunteers on the ground are supporting refugees and internally displaced people fleeing the conflict #BuiltToServe pic.twitter.com/utWngzz9Fx

— Team Rubicon (@TeamRubicon) March 11, 2022
---

Read next
Into the war zone: What firefighters, medics and EMTs should consider before going to Ukraine
From freelancing to insurance, there are several factors that should impact go/no-go deployment decisions
---