2 U.S. FFs traveling to Ukraine to deliver gear, train responders, answer calls
"I don't think there's a single firefighter that watches what's happening in Ukraine right now and doesn't feel a little heartsick," said Greg Zimmerman
---
By Leila Merrill
SIOUX FALLS, S.D. — A firefighter from South Dakota and a firefighter-paramedic from Florida are joining others from the U.S. in traveling to Ukraine to help their fellow first responders.  
Greg Zimmerman, a firefighter with Wentworth Fire & Rescue in South Dakota, left for Ukraine on Saturday with a group of firefighters called Project Joint Guardian, KELO reported.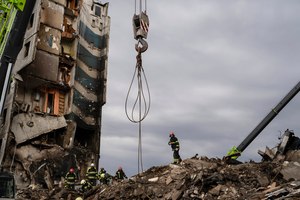 "We're going to be helping distribute fire engines, rescue equipment and everything else that goes with firefighting to the departments across the country," Zimmerman said. "Firefighters naturally want to help people, and I don't think there's a single firefighter that watches what's happening in Ukraine right now and doesn't feel a little heartsick."
Firefighter-paramedic Matt Johnson with Fort Lauderdale Fire Rescue will also join 15 others as part of Project Joint Guardian.
He plans to bring gear and medical supplies. Once there, Johnson plans to help train Ukrainian first responders and go on calls with them.
Johnson said he has talked with people in Ukraine.
"These guys are very, very tired in all aspects mentally, physically exhausted," Johnson said. "And it's nonstop. We are just itching to get over there and do our part."