Why crush injury is important to treat early
Crush injury from structure collapse and EMS treatment priorities described at EMS World Expo World Trauma Symposium
---
NEW ORLEANS — Crush injury, secondary to collapsed structure, presents a unique rescue and patient care challenge for EMS providers. Jeff Elder, MD, described trauma patients with crush injury at the World Trauma Symposium, a one day trauma-focused session at the EMS World Expo.
The medical component is just one aspect of a complex technical rescue from a collapsed structure. Elder discussed the importance of a medical specialist, a rescue paramedic with specialized skills and equipment, to provide care to collapsed structure victims.  
Memorable quotes
Here are memorable quotes from Elder on the challenges of collapsed structure and confined space rescue.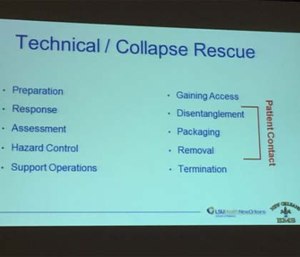 "This is not your traditional 911 call. It (collapsed structure) requires additional training and expertise. There is a lot going on other than taking care of the trauma patient."
"Preparation is the most important. Hundreds of hours of training are required. If you don't do training the other nine points (from FDNY 10 point list) of collapse rescue are going to fall by the way side."
"Crush injury is the actual physical crush of muscle groups, extremities — whatever is being squeezed. Crush syndrome is the systemic manifestation of all the bad stuff that results from the crush injury."
"Monitor patient, get fluids going, extricate patient and begin treatment for crush syndrome. It's a full court press. You do everything."
Key takeaways on crush injury and syndrome
Here are the key takeaways from Elder's presentation.
People get trapped
Confined space incidents, which create crush injuries, result from accidental or intentional collapse of structure and trenches. Incidents can also occur in industrial settings and often involve machinery.
Faulty construction is the top reason worldwide for building collapse. Collapse rescue survivors can be found in voids. The size and availability of voids — lean to, v-shape, pancake — depends on the type of structure and how it collapsed.
Rescuers use a variety of tools to look (fiber-optic cameras), listen (listening devices) or sniff (search dogs) for victims. The patient contact phase of a collapse rescue includes disentanglement (getting the patient out), packaging (bundling the patient for extrication from the rubble safely) and removal (from collapse to definitive care).
Patient assessment in collapsed and confined spaces
Initial contact with the patient, even as limited as being able to access a single extremity or simply speak with the patient, starts the assessment process. It just takes one arm or a foot to get some vital signs. Being able to talk to the patient or hear the patient speaking is enough for an assessment of level of consciousness. Begin assessment and treatment before the patient is released or extricated.
Early and prolonged care for critical patients
It's likely the most severely injured patients will take the most time to find, disentangle and package for extrication from the rubble. Anticipate traumatic injuries from penetrating, blunt and primary blast mechanisms.
The goal of treatment is to identify crush injury and try to prevent the manifestations or minimize the damage of crush syndrome. Start intravenous fluid administration as soon as possible, potentially hours before the patient is released from the collapse. The patient urinating in the hole during rescue is a good sign.
Urine output, a sign of proper hydration, is important for removing toxins and maintaining kidney function. Urine alkalization with sodium bicarbonate also helps prevent crush syndrome. Patient care is likely to be prolonged and often begins before the patient is removed from the scene. Use 12-EKG monitoring to identify hyperkalemia — peaked T waves — and begin treatment as soon as possible following ACLS protocol (calcium, sodium bicarbonate, albuterol).  
EMS operations are not limited to patient care
EMS providers may be called upon to monitor incident safety, provide rehab services and rescuer monitoring and treat minor injuries to rescuers. Elder shared a rehab tip to distribute six ounce water bottles to responders receiving rehab. At a recent deployment, responders drank water more regularly when given a small bottle they could gulp instead of a large bottle to sip from.
Learn more about collapse structure and MCI response:
Top Tweets
Monitor & suspect hyperkalaemia in crush injury. Treate pre-release to try to shift the potassium into the cells. #EMSWorldExpo #crushinjury pic.twitter.com/24iiINjlCV

— Carrie Thomas (@doccarrie) October 4, 2016
Crush injury syndrome some of sickest patients, arrhytmias kill immediately. Pre-release treatment. Get them peeing with IVFs. #EMSWorldExpo pic.twitter.com/SanQVRt4ba

— Carrie Thomas (@doccarrie) October 4, 2016