Even after Waukesha, say thanks, find joy and recognize goodwill freely given
Pre-plan for bystander response, mental health support for when chaotic violence disrupts a mass gathering
---
Flags are flying at half-mast in Wisconsin, my home state, as we mourn and attempt to make sense of a terrible tragedy.
On Sunday afternoon, a vehicle entered the Waukesha Christmas parade route, striking adults and children. Bystanders reported that the driver, now in custody, was weaving on the street, trying to hit parade marchers. As of Monday afternoon, five people had died and more than 40 people were injured.  
When chaotic violence disrupts a parade, concert, sporting event or other mass gathering, public safety personnel are at their best when they focus on the actions that will stop the killing and stop the dying. Once the threat has been eliminated, use the tools and training you have to triage the casualties, care for the most severely injured and begin transporting patients once egress routes are established for responding ambulances.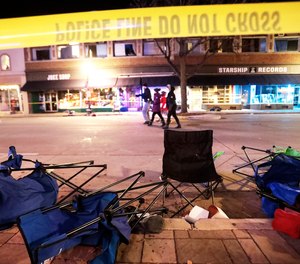 In the days ahead, we are going to learn more about the suspect, but we will also learn about the heroic efforts of paradegoers and parade participants to quickly tend to the injured by beginning CPR, treating severe bleeding, and transporting the injured to area hospitals in private vehicles before EMS arrived. We will also learn about the EMTs, paramedics, firefighters and police officers who quickly sprang into action to begin triage, treatment and transport.  
Not all bystanders are the panicked screamers, harassing photographers or catatonic statues we often see in MCI drills. As your department prepares for future incidents, make sure your plans and training scenarios include bystanders who are capably providing care and initiating transport of the injured. Some bystanders may willingly step aside as EMS arrives, while others may be committed to a rapid transport plan you aren't going to easily disrupt or dispute.  
Waukesha schools were rightly canceled today as students, parents and teachers begin to grapple with an unimaginable tragedy in their community. As EMS, police and firefighters aren't able to take a day off, it is even more important for departments to have a preplan for mental health support after a major incident.  
If you haven't already, be motivated by this incident to identify the components of a mental health response plan for your organization. In addition to regularly educating your department's Employee Assistance Program on the unique needs of public safety personnel, a peer support team, therapy dogs, and a chaplain are components of a growing number of mental health response plans.  
---

Learn more
On-demand webinar: How to create a mental health-friendly environment at your service
Learn how mental health support programs, from EAPs, to chaplaincy, to peer support teams, can create psychologically healthy workplaces
---
Thanksgiving is an annual reminder of abundance, generosity and gratitude. This Thanksgiving week, I am grateful to the dancers, musicians and performers in the parade who were bringing joy to their neighbors, families and friends. I am grateful for the moms and dads, grandparents and other paradegoers who jumped off the curb and into the street to begin attending to the injured. I am grateful for the EMTs, paramedics, police officers and firefighters who scooped up the injured and transported them to area hospitals. I am grateful to the doctors and nurses who continued emergency care and are now helping the injured heal and recover.  
As we all reel from this latest random act of killing and the other acts of violence you are likely to encounter during the holidays, please take a few minutes each day to find joy, recognize goodwill given to others, and express gratitude freely and often. We could all use another serving of love and kindness.  
---

Read more
7 ways to be prepared before the mass gathering turns into an MCI
Review how your own community prepares for special events for these essential elements
---