Lessons for EMS at a prolonged, widespread tactical incident
EMS agencies everywhere can continue learning from and apply the lessons learned during events in Ferguson, Missouri
---
SAN DIEGO — For most EMS providers the events that occurred in Ferguson, Missouri, in 2014 are already receding into memory. However, the impact of those events on how EMS will respond to future incidents is long lasting.
Dr. David Tan and Chief Robert Wylie presented an overview of the months-long medical operations supporting the law enforcement activities and the lessons they learned during those operations at the 2016 National Association of EMS Physicians annual meeting.
While there was much media coverage of the peaceful demonstrations that were occurring, there was little media coverage of the thrown rocks, bottles and live fire directed at public safety personnel during much of the incident. The presenters discussed how the images being shown by the media dehumanized law enforcement personnel, making them a symbol to protest. Fire and EMS personnel were lumped into that perception, creating a greater tension with the community.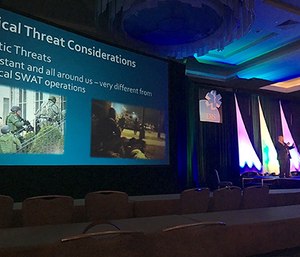 The continuous tactical incident did not prevent citizens from calling 911 for nonrelated medical emergencies and injuries. However, normal EMS assists were not able to enter the hot zone due to major safety concerns.
Memorable quote
"Gentlemen, learn your lessons well. We will be back." — Police Commander talking to tactical EMS providers during the Ferguson riots.
Key takeaways for EMS from Ferguson
Tan and Wylie shared important lessons learned for EMS about the medical operations at a prolonged, widespread and constantly changing tactical incident. Here are seven top takeaways.
EMS and other public safety agencies must initiate, develop and maintain operational relationships that build trust and cooperation at a moment's notice.
Include emergency department and trauma center personnel in the planning process.
Traditional EMS staging areas may still not be safe; ballistic PPE may be needed at all times in the cold zone.
Clearly label ballistic wear with 'EMS' or 'RESCUE'.
EMS, fire and police personnel should learn to operate as small tactical units during area operations.
Dehydration and other environmental issues must be anticipated. Moreover, supply lines must be considered. During extended operations in a volatile environment, extended deployment units may not be able to restock water and other supplies.
Being able to ramp up on trauma stockpiles for things like tourniquets and compression bandages is essential.
Learn more about the EMS response and operations in Ferguson and read more questions that must be answered when considering body armor for EMS.