NASCAR star to honor EMS regional director who survived COVID-19
Kurt Busch will display the name of Paramedic Bernard Robinson, a regional director for Northwell Health's Center for EMS in New York, on his car as he races in the Xfinity 500 this weekend
---
By Laura French
SYOSSET, N.Y. — An EMS regional director in New York who survived COVID-19 will be honored by NASCAR star Kurt Busch during a Cup Series race this weekend. 
Paramedic Bernard Robinson, a regional director for Northwell Health's Center for Emergency Medical Services who has served in EMS for 28 years, contracted the virus in March after returning to the field to serve on the front lines of the pandemic, according to Newsday. Robinson developed pneumonia in both his lungs and spent about a week in the hospital battling the disease.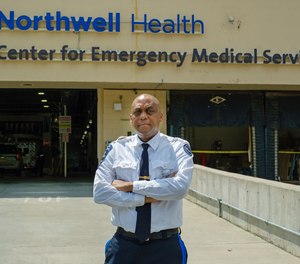 Robinson returned to work about a month after he first tested positive. On Sunday, his name will appear on the side of Busch's No. 1 Chevrolet Camaro ZL1 1LE during the Xfinity 500 at Martinsville Speedway in Virginia. 
Busch has been displaying the name of a healthcare worker on his vehicle for each of his last five NASCAR races, but Robinson is the first honoree to have survived COVID-19 himself. 
Robinson said his experience with the virus has given him a new outlook on life and that, as a sports fan, he is excited to be honored during the race.