Colo. paramedics partner with hospital to improve stroke care
Ute Pass Regional Health Service District paramedics will be permitted to transport patients receiving a lifesaving medication called tPA
---
This story has been updated based on information received from Ute Pass Regional Health Service District.
WOODLAND PARK, Colo. — Paramedics partnered with a hospital to improve stroke patient transport with a new protocol.
According to a press release, Ute Pass Regional Paramedic Services paramedics are now permitted to transport patients receiving tPA, short for tissue Plasminogen Activator. 
"This new partnership will ensure patients experiencing a stroke will be transported to a comprehensive stroke hospital in Colorado Springs in a shorter amount of time while simultaneously receiving this life saving medication," the press release said.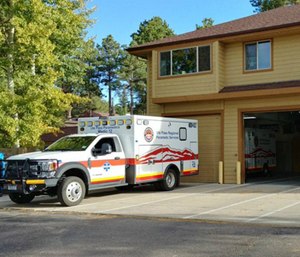 Under the new protocol, patients will be transported to Pikes Peak Regional Hospital, where they will be administered the medication, "reducing the time it takes for patients to get tPA and initial stroke care."
"There is a window from the onset of a stroke – we have up to four and a half hours to get the patient quickly to the fastest place for neurointervention," UPRPS Medical Director Jeremy DeWall told Pikes Peak Courier. "We've been working almost a year to get this."
The protocol is one which only a few ambulance services in the state are trained to provide, according to the press release. 
"We can help the hospital (Memorial Central or Penrose Main) because we can start the medicine at the onset of symptoms," paramedic Dave Hansher said.
Read the full press release below. 
TPRpr by Ed Praetorian on Scribd