Officer fired for shooting 'wantonly and blindly' in Breonna Taylor death
Brett Hankison was one of the three officers who entered the EMT's home on a no-knock warrant when she was killed by police gunfire
---
Update: June 23, 2020, 7:30 PST
The Louisville Metro Police Department announced that Det. Brett Hankison was informed in a letter signed by the the police chief that his employment with the department "is terminated," effective immediately. The letter, which was written by Police Chief Robert Schroeder, was posted to the department's Twitter account. 
"I find your conduct a shock to the conscience," Schroeder wrote. "I am alarmed and stunned you used deadly force in this fashion."
By Nancy Dillon
New York Daily News
LOUISVILLE, Ky. — Louisville, Ky., police officer Brett Hankison is being terminated after his involvement in the shooting death of Breonna Taylor on March 13, the mayor of Louisville said Friday.
Mayor Greg Fischer said Louisville Metro Police Department Chief Robert Schroeder was "initiating termination procedures" against Hankison but he couldn't offer details due to a state law that prohibits comments on alleged misconduct ahead of a final disposition of charges.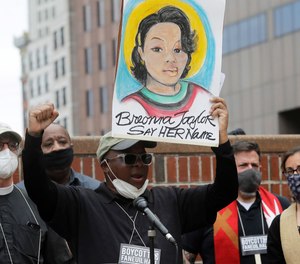 "Unfortunately, due to a provision in state law that I very much would like to see changed, both the chief and I are precluded from talking about what brought us to this moment, or even the timing of this decision," the mayor said in a statement.
Hankison was one of three plainclothes police officers who used a battering ram to gain entry into Taylor's apartment shortly after midnight on March 13.
Taylor, 26, and her boyfriend Kenneth Walker, 27, were in bed at the time and thought they were the victims of a home-invasion, Taylor family lawyer Benjamin Crump previously told The News.
Taylor, a licensed EMT working in a hospital emergency room, was shot at least eight times in the ensuing chaos.
Her boyfriend Kenneth Walker, a licensed gun owner, used his legal firearm in self-defense, Crump said.
"Somebody kicked in the door and shot my girlfriend," Walker said in his distressed 911 call.
Hankison and the other two officers –Sgt. Jon Mattingly and Det. Myles Cosgrove – were serving the no-knock warrant in a narcotics case involving a suspect who allegedly received packages at Taylor's address years earlier.
The suspect had been apprehended at another location hours before the fatal shooting of Taylor, unbeknownst to the officers who opened fire on her, Crump said.
———
©2020 New York Daily News
McClatchy-Tribune News Service